Detailed Description
Authentic acoustic piano playability
With an 88-key piano action and synthetic ivory and ebony keys, the Graded Hammer 3 (GH3) keyboard reproduces the touch of an acoustic piano, from the heavy feel in the lower register to a lighter touch in the upper octaves. The GH3 features a three-sensor configuration that, accurately senses and interprets the behavior of the keyboard to provide a grand piano-style response and feel, allowing rapid note repetition and authentic expressive control.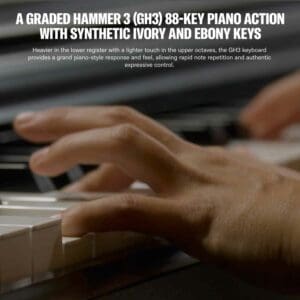 Key-off Samples
This feature reproduces the slight change in sound at the instant you remove your fingers from the keys. What's more, different key-off sounds are produced for staccato and legato playing.
String Resonance
When the hammer of a grand piano strikes its string, the other strings will also resonate. The YDP-S54 can reproduce this effect using its String Resonance feature.
The Stereophonic Optimizer—a new kind of headphone experience
When using headphones, the Stereophonic Optimizer lets players enjoy the dispersed sound heard when sitting in front of an acoustic piano. With the Stereophonic Optimizer, Voices sampled from acoustic pianos appear to come from the body of the instrument. This provides a comfortable, natural experience that removes the drawbacks of performing with headphones.
Acoustic Optimizer
The speakers attached to the case exhibit a phenomenon in which, if nothing is done, the volume of the sound will increase due to the resonant frequency of the material. However, installing Acoustic Optimizers with the same resonant frequency within the body of the piano suppresses this resonance. This improvement of the sound is something that has only been possible thanks to Yamaha's thorough knowledge of the internal acoustic characteristics of musical instruments.
Intelligent Acoustic Control (IAC) – for comfortable practice at home
At low volumes, bass and treble used to be difficult to hear; however, YDP-S54 is equipped with Intelligent Acoustic Control (IAC) which adjusts the sound automatically, allowing players to enjoy balanced piano tones at any volume level.
The Smart Pianist App
Enjoy your piano more with the Smart Pianist app. This specially designed app provides a variety of music-related functions when connected to a compatible instrument. The app is Android and iOS compatible.
Features include easy voice selection, adjusting of parameters such as reverberation, layering of voices, transposing, backing band accompaniment*, hundreds of built-in MIDI songs with notation, piano lessons pieces,  and the "Audio to Score" function** that automatically creates a piano accompaniment score from songs on your smart device.
*CSP Series only.
** CSP Series and CVP-805 / 809 / 809GP only.
Learn the piano with Yamaha and Flowkey
Flowkey is an exciting app for learning how to play the piano. The app offers a huge selection of interactive songs, tutorials and courses. These give you immediate feedback on your piano playing and support your progress. Combine your Yamaha acoustic piano, digital piano or Yamaha keyboard with Flowkey and you too will soon be able to play your favourite music.
The piano app is also a very intuitive way to learn for those returning to the piano after a break. Flowkey not only offers songs, tutorials and courses for beginners but also for those taking up playing again and advanced players – the app has a suitable exercise whatever your proficiency.
Register your new product and gain premium access to the app free of charge for three months!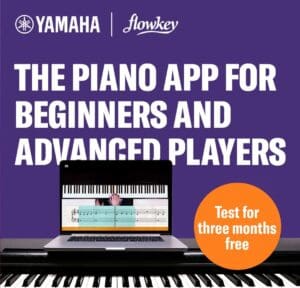 Generous Part Exchanges Available
Get in touch with us if you have an existing digital or acoustic piano that you'd like to part exchange with us, and we'd be happy to let you know how much it could be worth.