Detailed Description
Feel Inspired
A piano that will encourage enthusiastic players to become accomplished pianists, and transform living rooms into grand concert halls. This is the ambitious philosophy behind Kawai's latest Concert Artist series – premium instruments that capture the essence of playing a magnificent concert grand piano, and inspire musicians of all ages and abilities to realise their true artistic potential.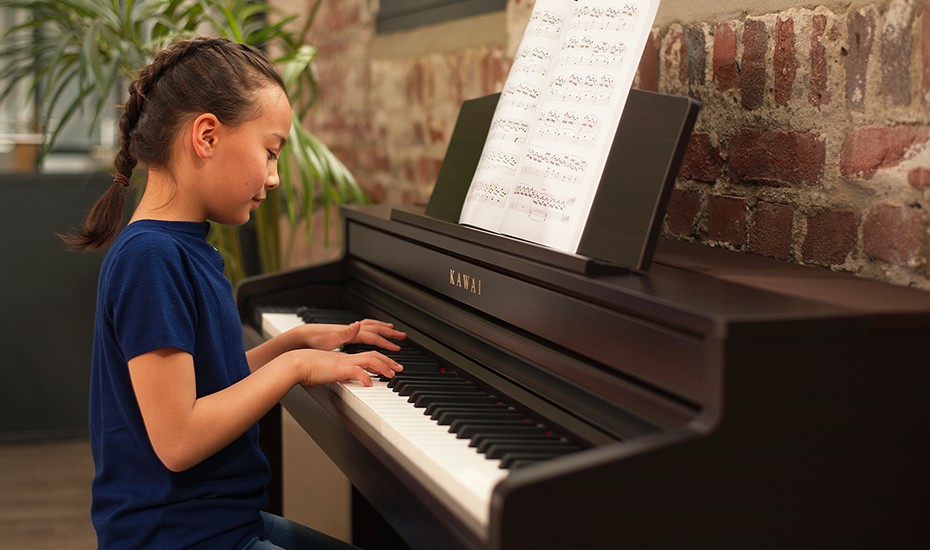 The Touch Of A Grand Piano: Grand Feel Compact Wooden Key Action
The CA59 is the latest Kawai digital piano to utilise the superb Grand Feel Compact wooden-key keyboard action.  As its name suggest, the GF Compact action has been designed to reproduce the authentic touch weight characteristics of the industry-leading Grand Feel keyboard actions, within a smaller form factor.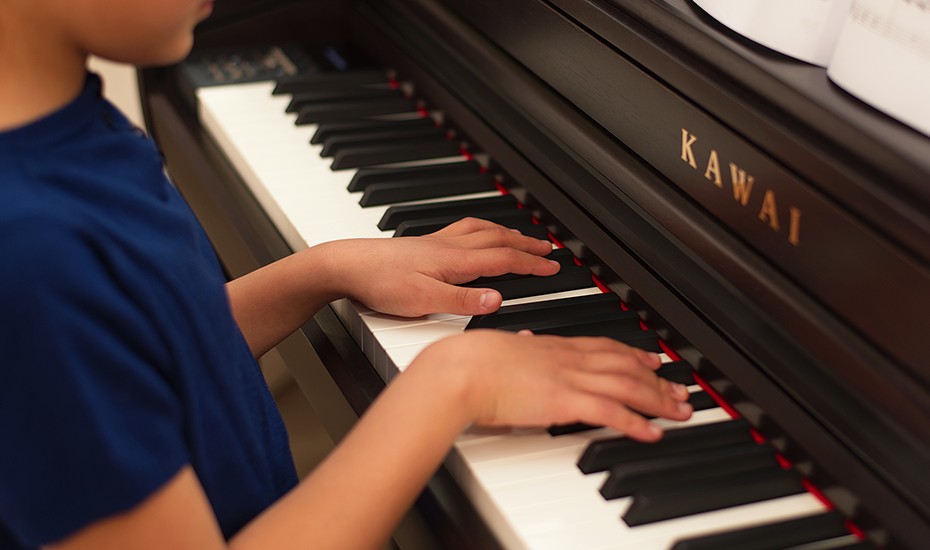 This action retains the long wooden keysticks used for all 88 black and white keys, and the familiar 'seesaw' mechanism employed by acoustic grand piano actions for centuries. However, despite its smaller unit size, GF Compact features an extended key pivot length, providing a more consistent touch weight when playing towards the rear of the keyboard. This crucial detail, along with various other acoustic piano-like characteristics, ensures the CA59 delivers the most realistic playing experience in its class.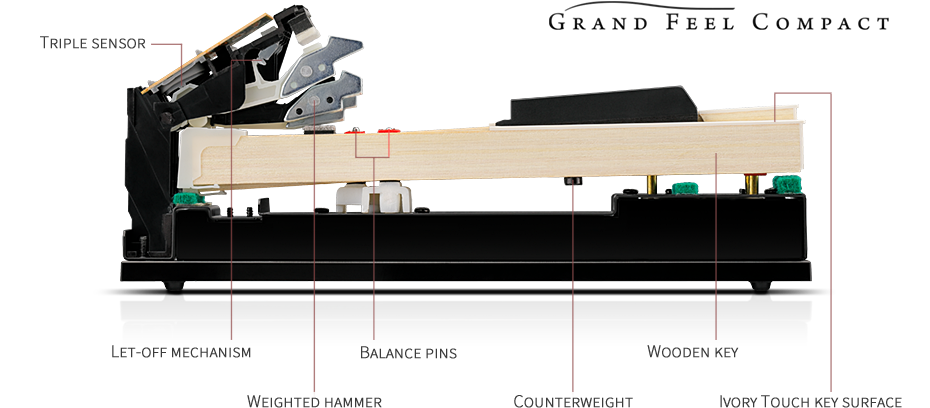 Bass Key Counterweights
In addition to grade-weighted hammers, the Grand Feel Compact keyboard action also features counterweights attached towards the front of the bass keys.
As with an acoustic piano, these finely balanced weights help to lighten the touch of the keyboard during pianissimo passages, while adding a feel of greater substance when playing with force.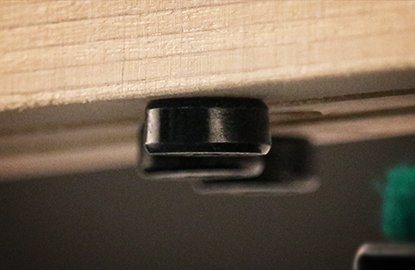 Triple Sensor Key Detection
The Grand Feel Compact keyboard action utilises an accurate triple-sensor key detection system for enhanced playing realism.
The added third sensor improves responsiveness when playing the same key repeatedly, and unlike conventional two sensor keyboard actions found in many digital pianos, allows the sound of a single note to be gradually 'layered' without the previous tone being lost.
In addition, Kawai's action technology also monitors the speed at which each key is lifted, influencing the release character of piano sounds, and providing a greater range of expression between staccato and legato playing.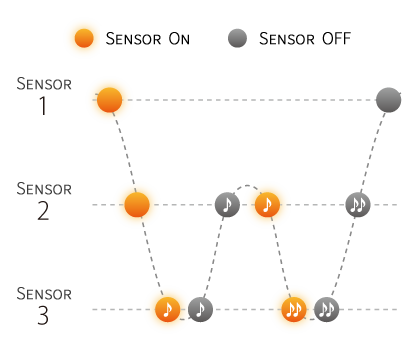 Ivory Touch Key Surfaces
The impressive CA59 features Kawai's highly regarded Ivory Touch key surfaces as standard. This finely textured material gently absorbs fingertip perspiration and oils to assist playing control, and possesses a natural, matte finish that is smooth but not slippery.
Furthermore, this moisture is absorbed without dirt or grease permeating the surface, allowing the keytops to be wiped clean easily using just a damp cloth.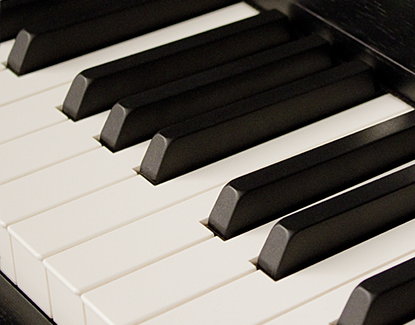 Let-Off Simulation
As the most authentic digital piano keyboard action in its class, Grand Feel Compact even reproduces the 'let-off' characteristic of acoustic piano actions.
This subtle 'notch' sensation can be felt when playing the keys of a grand piano very gently, and may be used by experienced pianists to aid control when playing pianissimo passages.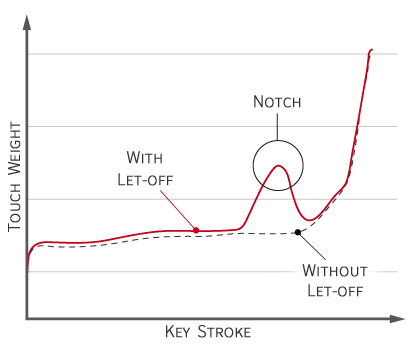 The Sound Of A Grand Piano: Three World-Class Instruments
Earning a reputation as the 'premier pianos of Japan', Shigeru Kawai instruments grace the stages of concert halls and musical institutions throughout the world, and are prized for their outstanding tonal clarity and exceptional dynamic range.
The new CA59 captures the magnificent tone of two premier Shigeru Kawai instruments: the flagship SK-EX Concert and mid-sized SK-5 Studio grand pianos, allowing musicians to enjoy the contrasting properties of each.
In addition, the CA59 also features the distinctive sound of Kawai's highly acclaimed EX concert grand piano, which has frequently been selected by professional pianists in such prestigious events as the Chopin, Tchaikovsky, and Rubinstein international piano competitions, among others.
All three instruments are faithfully reproduced with full 88-key sampling using proprietary Harmonic Imaging™ sound technology, to establish a new standard in digital piano tonal quality.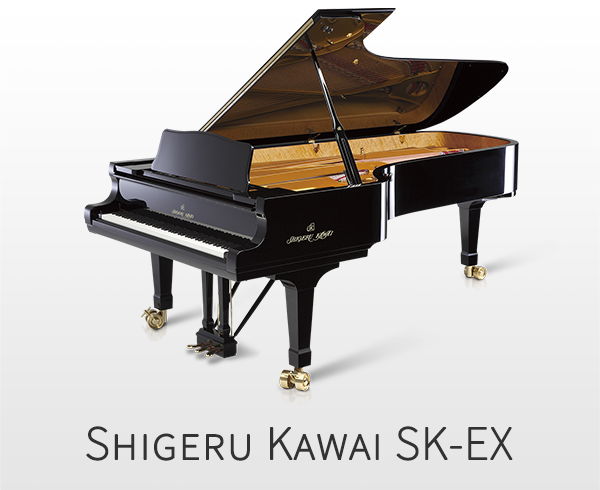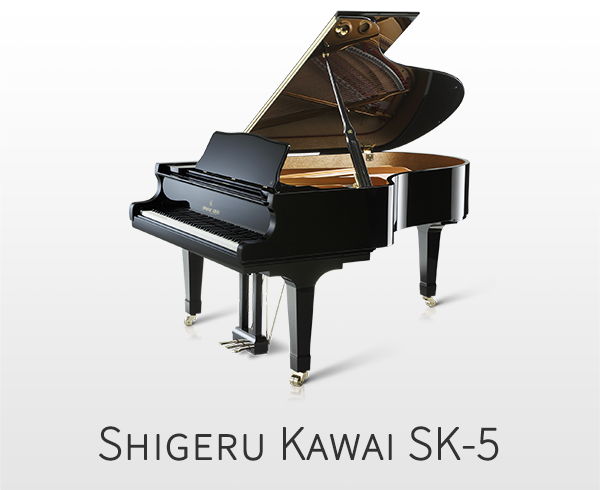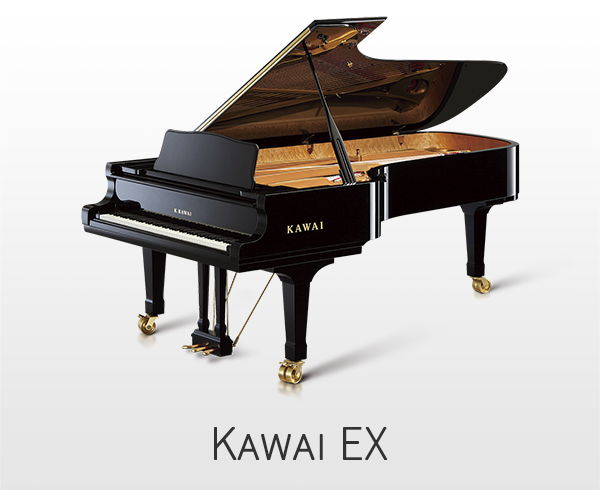 Full 88-Key Stereo Piano Sampling
The rich, expressive sound of the SK-EX, SK-5, and EX grand pianos is at the heart of the CA59, with all eighty-eight keys of these world-class instruments painstakingly recorded, meticulously analysed, and accurately reproduced as high-fidelity digital waveforms.
Recording each key individually in this way – as opposed to stretching the same tone over several different notes – preserves the grand pianos' unique harmonic character, and guarantees that the sound heard when playing any one of the CA59's wooden keys is a faithful representation of the original acoustic source.
Harmonic Imaging Technology
When playing a fine piano, the amount of pressure applied to the keyboard affects not only the volume of the sound produced, but also the unique tonal character of each note. Therefore, in order to construct a realistic acoustic portrait of each grand piano, not only is each key recorded individually, but also at a wide variety of different volumes, ranging from gentle pianissimo to thunderous fortissimo.
The CA59 offers a highly detailed acoustic portrait, employing Kawai's proprietary Harmonic Imaging XL sampling technology to ensure smooth tonal transitions across the keyboard and throughout the entire dynamic range.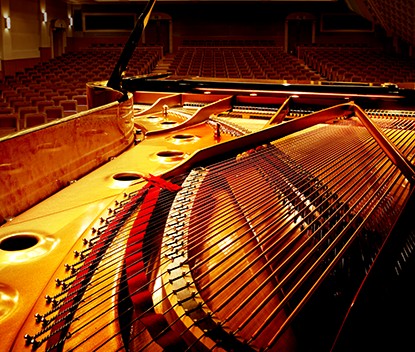 Extra Long Sampling (HI-XL)
Taking full advantage of its expanded sample memory, the CA59's Harmonic Imaging XL standard extends the important attack portion of the piano sound by up to 120%, articulating the natural detail and resonance characteristics of each note more clearly, and improving the instrument's organic tonal quality.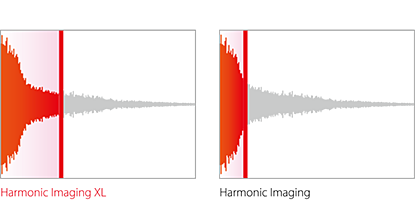 Personalised Piano Adjustments
The knowledge and skill of an experienced piano technician is essential to bring out the best of a fine acoustic piano. In addition to tuning each note, the technician also performs numerous regulation and voicing adjustments that allow the instrument to truly sing.
The CA59's powerful Virtual Technician function simulates these refinements digitally, allowing discerning musicians to shape aspects of the selected piano's character to suit their personal preferences.
Perform touch weight and voicing adjustments, regulate hammer and key release noises, and fine-tune string, damper, and cabinet resonances. It is even possible to adjust the precise tuning, volume, and character of individual notes – all in real-time.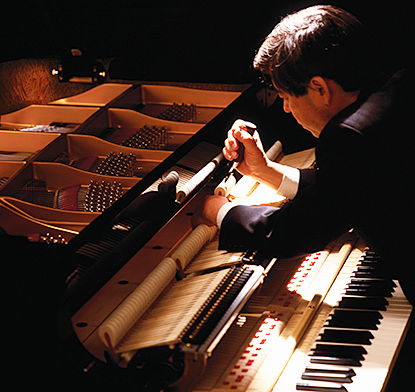 Powerful Effects & Reverb
The CA59's powerful digital effects engine enhances the instrument's superior core sounds, applying additional layers of detail and realism that bring performances to life.
Studio-quality reverb allows pianists to position themselves within one of six acoustic environments, ranging from a small practise room to an inspirational grand cathedral.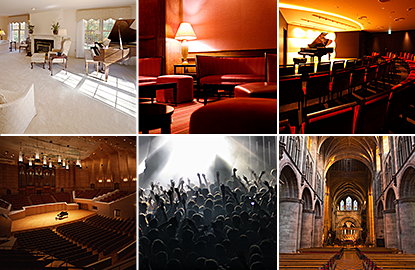 Premium Audio Technologies, Powered By Onkyo
Developed in collaboration with Onkyo, one of Japan's leading premium audio equipment manufacturers, the CA59 features a redesigned motherboard, amplifier, and audio delivery system. These premium components combine to deliver best-in-class audio quality, producing an extremely rich, clear sound with minimal distortion.
Onkyo Designed Sound Hardware
The CA59 motherboard and sound hardware is designed for precise signal conversion and optimum sound quality. Onkyo's unrivalled knowledge and experience in producing premium audio components ensures clear, high-fidelity sound with minimal distortion.
Powerful 4-Speaker Output System
The CA59 boasts a powerful 100W, 4-speaker output system that closely mirrors the sound projection of a grand piano, with lower-range frequencies delivered through the underside of the instrument, and mid to high-range frequencies projected outward via top-mounted speakers.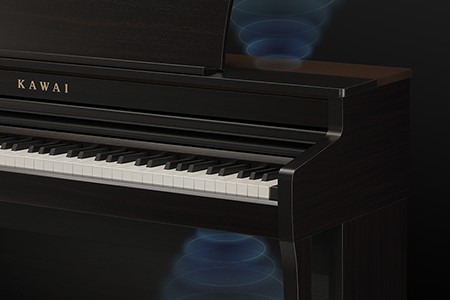 The Variety Of A Digital Piano: Convenience & Flexibility
Complementing the instrument's class-leading Grand Feel Compact wooden-key keyboard action and Harmonic Imaging XL piano sounds, the CA59 also offers a strong selection of digital piano features that further enhance one's musical enjoyment.
Wireless Bluetooth® connectivity, USB audio record/playback, Dual, Split, and Four Hands keyboard modes, and a rich assortment of instrumental voices add greater variety to players' performances, while the convenient metronome function and integrated lessons ensure that regular practise is both productive and engaging for aspiring pianists.
Integrated Bluetooth® Connectivity
In addition to standard USB and MIDI jacks for connecting to computers or other instruments, the CA59 also features integrated Bluetooth® MIDI and Audio technologies that allow the instrument to communicate with supported smart devices wirelessly.
Once paired with a phone, tablet, or laptop, CA59 owners can enjoy a wide variety of exciting music-related apps that enhance their learning and playing experience, or stream audio from songs and videos directly through the instrument's premium amplifier and speaker systems without the need to connect additional cables.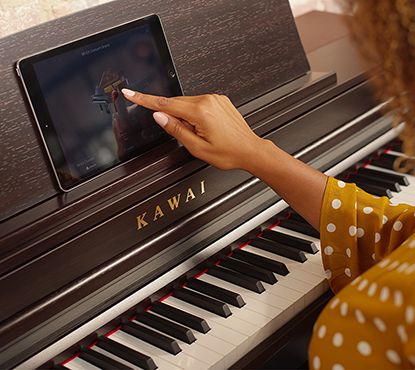 Rich Sound Selection
Supplementing the beautiful acoustic piano voices, the CA59 also features an excellent selection of additional sounds, ranging from electric pianos and drawbar or church organs, to strings, human choirs, and synth pads, inviting musicians to add greater variety to their performances.
The Dual playing mode also allows two different sounds, such as grand piano and strings, to be layered together, while the Split and Four Hands modes divide the keyboard into two independent sections.
The latter feature is particularly useful in learning environments, allowing teacher and student (or student and student) to play together at the same time using a single instrument.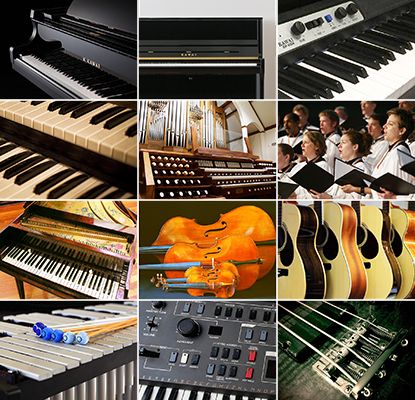 PianoRemote App
The latest CA59 is compatible with Kawai's new PianoRemote control app for iOS and supported Android devices. This app connects to the piano wirelessly via the Concert Artists' integrated Bluetooth feature, providing an effortless way to change sounds, adjust settings, or enjoy the vast array of built-in music content from the comfort of an armchair.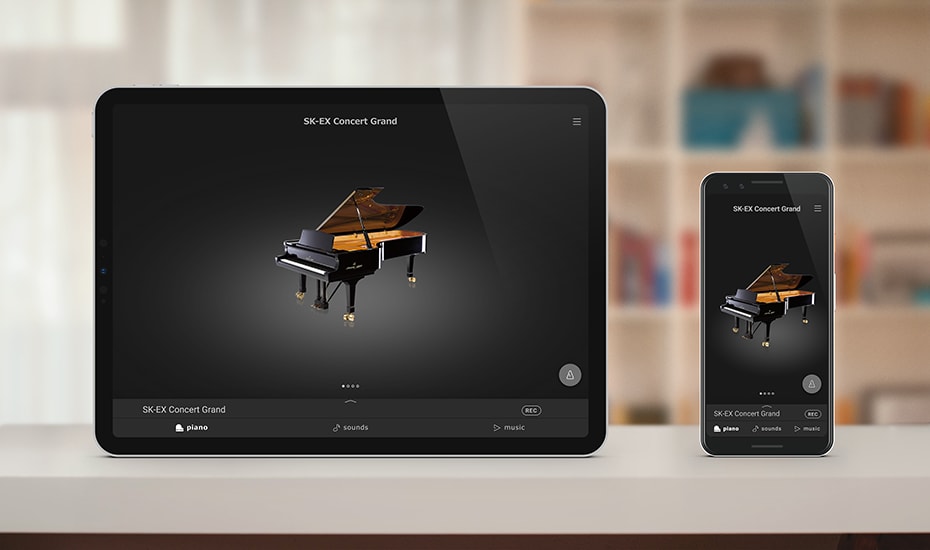 Flexible USB Connectivity
In addition to wireless functionality, the CA59 is also equipped with USB ports that allow the instrument to be connected directly to a computer for MIDI use, or to load and save data to USB memory devices.
This latter USB to Device functionality allows favourite instrument settings, registrations, and memorable recorder songs stored within internal memory to be safely preserved on USB flash drives, or for standard MIDI files (SMF) downloaded from the internet to be played back and enjoyed using the instrument's exquisite Harmonic Imaging XL sounds without additional hardware or cables.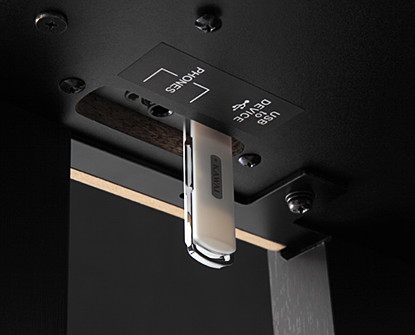 MP3/WAV Playback & Record
USB memory devices can also be used to play back MP3 or WAV audio files, allowing musicians to learn the chords or melody for a new piece, or to simply play along with their favourite songs.
It is even possible to record and overdub entire performances directly as MP3 or WAV audio files for emailing to family and friends, or casual listening away from the piano.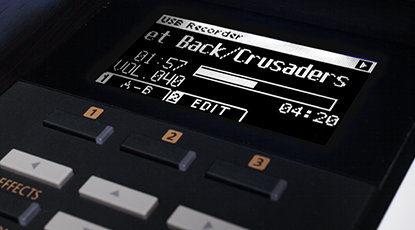 Grand Feel Pedal System
Reinforcing the Concert Artists' reputation as the most realistic digital pianos in their price range is Kawai's Grand Feel Pedal System. This unique feature accurately replicates the position and individual weighting of the damper, soft, and sostenuto pedals of a Shigeru Kawai SK-EX concert grand piano to further enhance the CA59's acoustic piano-like authenticity.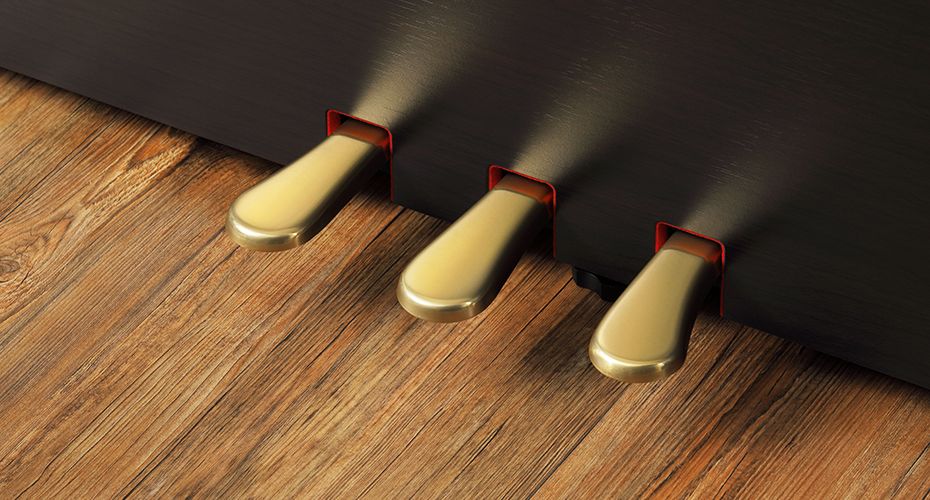 Superior Headphone Experience
The CA59's Spatial Headphone Sound (SHS) technology enhances the depth and realism of the instrument's sound when listening through headphones or earphones. The player can select one of three different acoustic presets that adjust the spatial positioning of the sound, while also helping to reduce auditory fatigue when using earphones or headphones for extended periods of time.
In addition, the CA59 also allows players to select a variety of headphone types (Open, Semi-open, Closed, In-Ear, Canal, etc.) for an optimised listening experience.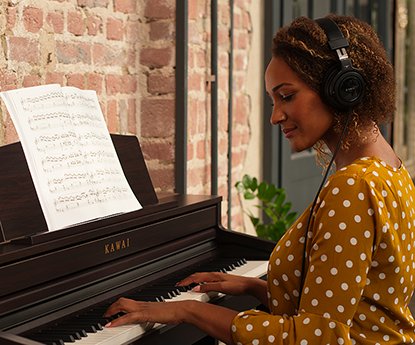 Built-In Lesson Function
The CA59's convenient lesson function allows aspiring pianists to learn piano with classical Czerny, Burgmüller, Beyer, Bach, and Beethoven etudes, or a collection of songs from the popular Alfred's Basic, Adult, and Premier course books.
With a strong emphasis on acoustic piano realism, the CA59 also features traditional finger exercises, scales, and warm-up drills, and includes companion books for all classical scores to further aid one's piano development.
* Included score books dependent on market location.
* Alfred lesson books sold separately.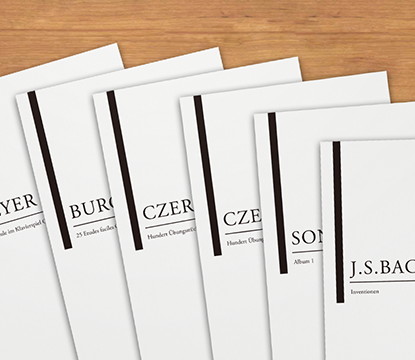 Grand Feel Design: Character & Purpose
Sitting down at the Concert Artist, the first thing that strikes the player is the instrument's flat fascia and tall upper board, giving the impression of a traditional grand piano and immediately elevating the musical aspirations of the performer. The distinctive KAWAI logo – representing over 90 years of acoustic piano crafting excellence – adorns the CA59's fallboard, its metallic finish glimmers in the light, capturing the graceful movements of the player's hands below.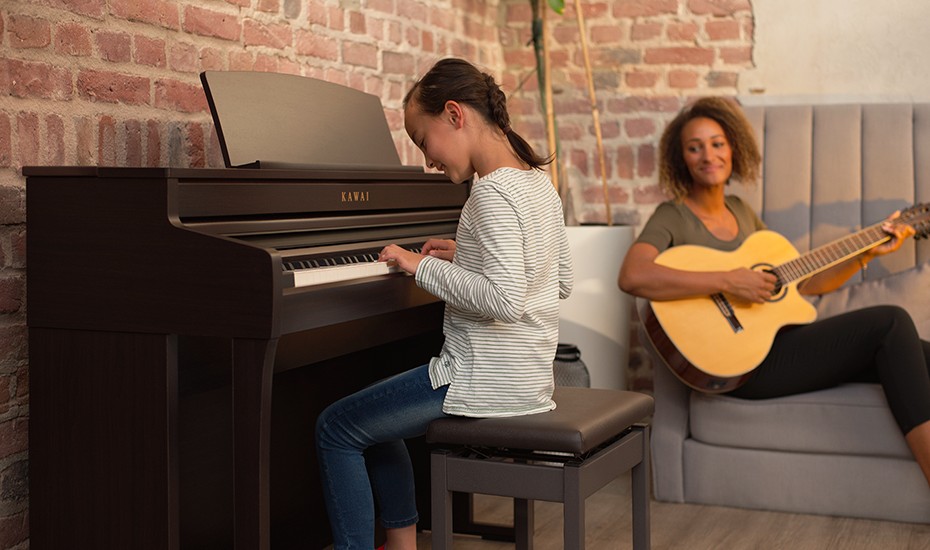 Broad, Adjustable Music Rest
The CA59's broad music rest is engineered to accommodate the most ambitious musical works, with a high-quality surface and attractive round design.
As with a grand piano, the viewing angle of the instrument's music rest can be adjusted to suit the performer's playing position, or laid flat for convenience when notating scores or sketching musical ideas.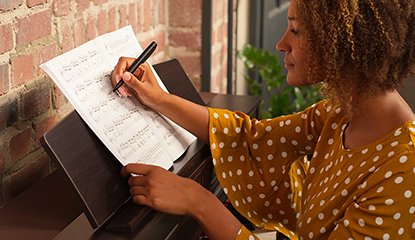 Dimensions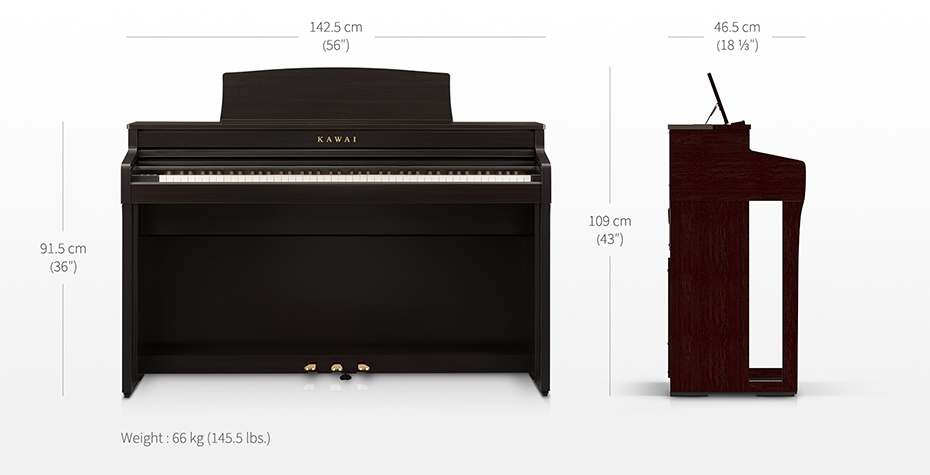 Generous Part Exchanges Available
Get in touch with us if you have an existing digital or acoustic piano that you'd like to part exchange with us, and we'd be happy to let you know how much it could be worth.