Detailed Description
Feel Inspired
A piano that will encourage enthusiastic players to become accomplished pianists, and transform living rooms into grand concert halls. This is the ambitious philosophy behind Kawai's latest Concert Artist series – premium instruments that capture the essence of playing a magnificent concert grand piano, and inspire musicians to realise their true artistic potential.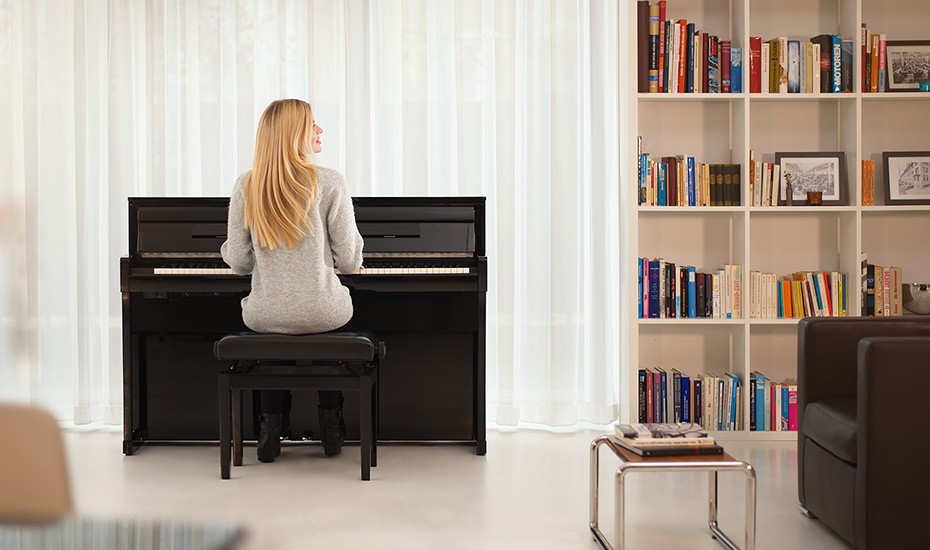 The Touch Of A Grand Piano: Grand Feel III Wooden Key Action
Embracing many of the long-established principles associated with an acoustic piano, the Grand Feel III keyboard action utilised by the CA99 combines realistic materials, motion, and mechanism to recreate the exceptional touch of the finest concert grand pianos.
All eighty-eight black and white keys are crafted entirely from long pieces of wood, with finely textured ivory and ebony-like surfaces applied to absorb moisture and assist control. Each wooden key pivots smoothly on a balance pin – the ends rising and falling to replicate the familiar 'seesaw' motion of an acoustic piano action. When pressed, the back of the key lifts, triggering a grade-weighted hammer to strike a pressure switch. The amount of force applied to this switch is then measured, and the corresponding note played with authentic tonal character and volume.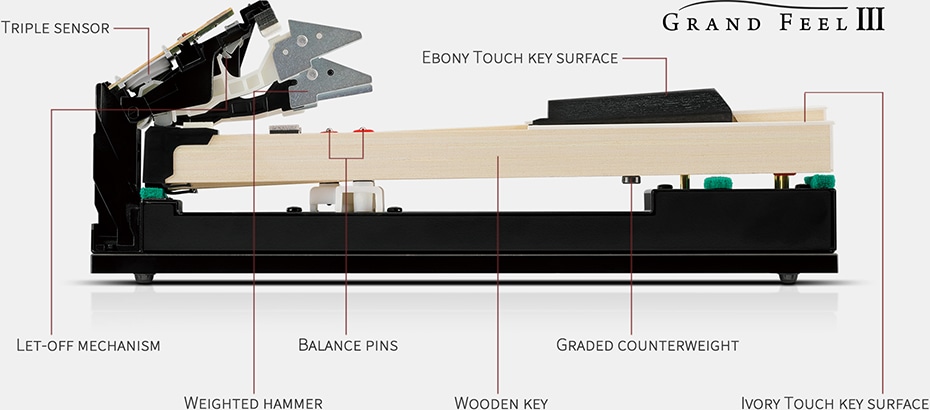 Extra-Long Key Length, Extra-Long Pivot Length
In addition to featuring extended, fully wooden keys, Grand Feel keyboard actions also boast some of the longest key pivot lengths – matching that of a Kawai grand piano.
This extended key pivot length provides a more evenly balanced touch weight from the front to the rear of each key, allowing greater fluency and expressive control, while also minimising the need to readjust one's technique when playing an acoustic grand piano.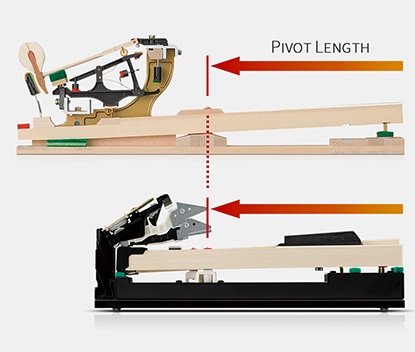 88-Key Graded Counterweights
In addition to grade-weighted hammers, the Grand Feel III action also features metal counterweights, attached beneath each key, and graded across the length of the keyboard.
As with an acoustic piano, these additional weights help to balance the touch of the keyboard during pianissimo passages, while providing a feeling of greater substance and solidity when playing with force.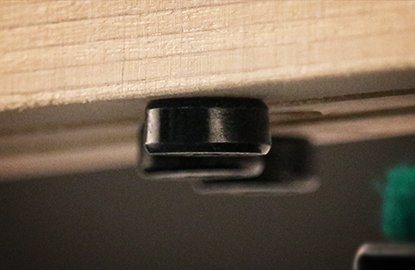 Triple Sensor Key Detection
The Grand Feel III keyboard action also features an accurate triple-sensor key detection system for enhanced playing realism.
The added third sensor improves responsiveness when playing the same key repeatedly, and unlike conventional two sensor keyboard actions found in many digital pianos, allows the sound of a single note to be gradually 'layered' without the previous tone being lost.
In addition, Kawai's action technology also monitors the speed at which each key is lifted, influencing the release character of piano sounds, and providing a greater range of expression between staccato and legato playing.
Ivory & Ebony Touch Key Surfaces
The exceptional CA99 features Kawai's highly regarded Ivory Touch white key surfaces as standard. This finely textured material gently absorbs fingertip perspiration and oils to assist playing control, and possesses a natural, matte finish that is smooth but not slippery.
To complement these premium white keys, Kawai has also developed Ebony Touch, a special black key material that reproduces the finely-textured grain and rich lustre of real ebony wood. The result is a keyboard surface that looks and feels as luxurious as some of the world's finest grand pianos, inspiring musicians of all levels to become better pianists.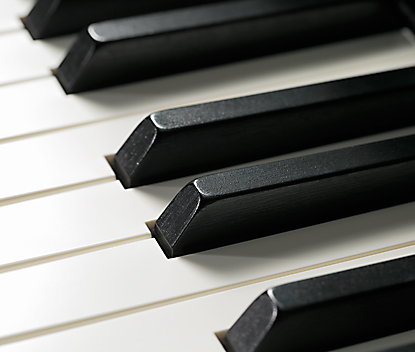 Let-Off Simulation
As the most authentic digital piano keyboard action, Grand Feel III even reproduces the 'let-off' characteristic of acoustic piano actions. This subtle 'notch' sensation can be felt when playing the keys of a grand piano very gently, and may be used by experienced pianists to aid control when playing pianissimo passages.
In addition, the Grand Feel III action supports playing notes from the let-off point (sometimes referred to as playing 'off the jack'), allowing the most advanced piano techniques to be performed.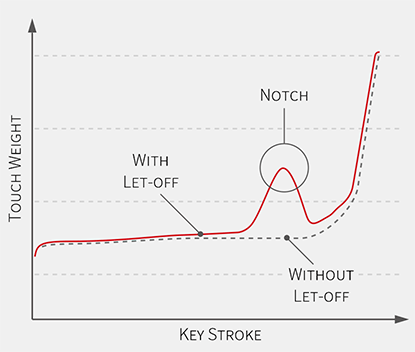 The Sound Of A Grand Piano: Shigeru Kawai SK-EX Concert Grand
The Shigeru Kawai SK-EX concert grand piano was conceived as the next step in evolving the art of the piano. Earning a reputation as the 'premier piano of Japan,' it graces the stages of concert halls and musical institutions around the globe, receiving universal acclaim for its exceptional clarity and dynamic range. The SK-EX has frequently been selected by professional pianists at such prestigious events as the Chopin, Tchaikovsky, and Rubinstein international piano competitions. With its magnificent tone and wonderfully responsive touch, the SK-EX can best be described with one word – incomparable.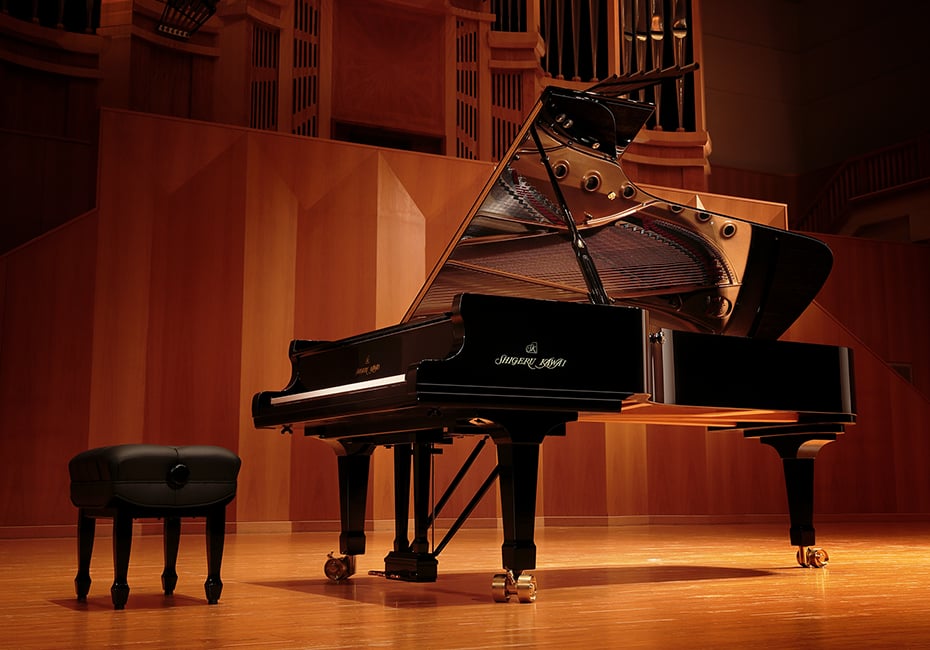 SK-EX Rendering Sound Engine
In order to faithfully reproduce the stunning sound of a Shigeru Kawai concert grand piano digitally, Kawai has developed SK-EX Rendering. This special, piano-only sound engine focusses the Concert Artist's DSP power, combining multi-channel, 88-key sampling with the latest resonance modelling technology to deliver pure acoustic piano authenticity. When SK-EX Rendering is selected, players can choose ten differently prepared piano characters ranging from Classic and Romantic, to Jazz, and even Boogie.
Multi-Channel Sampling
While digital pianos typically employ single-point stereo sampling, the SK-EX Rendering engine's multi-channel sampling captures the sound from different points of the Shigeru Kawai concert grand.
This modern technique not only allows a broader range of tonal characteristics to be recorded and reproduced, but also improves the connection felt between the keyboard and piano sound, resulting in a more lively and authentic response to changes in dynamics.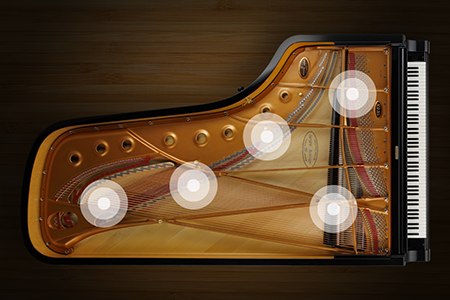 Full Resonance Modelling
This naturally expressive Shigeru Kawai sound is further enriched by newly developed resonance algorithms, which physically model the complex tonal interactions produced by the strings, dampers, and various other parts of an acoustic piano.
Unlike other resonance simulations, SK-EX Rendering generates resonances for the damper pedal and all 88 keys progressively (i.e. in gradual amounts, not simply on or off), allowing the Concert Artist to behave – and therefore be controlled – more like an acoustic piano.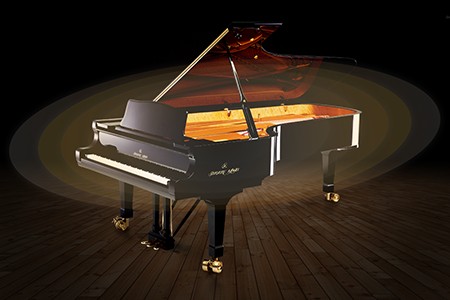 Harmonic Imaging XL Sound Engine
Accompanying the dedicated SK-EX Rendering pianos, the CA99 also features the flexible Harmonic Imaging XL sound engine, which offers a broader selection of instrument voices, and the ability to combine sounds. Harmonic Imaging XL also showcases a selection of alternative acoustic pianos captured with full 88-key stereo sampling.
The Kawai EX full concert grand piano has frequently been selected by professional pianists in such prestigious events as the Chopin, Tchaikovsky, and Rubinstein international piano competitions, while the Shigeru Kawai SK-5 chamber grand and Kawai K-60 upright allow performers to enjoy the contrasting tonal characteristics of various different piano sizes and voicing configurations.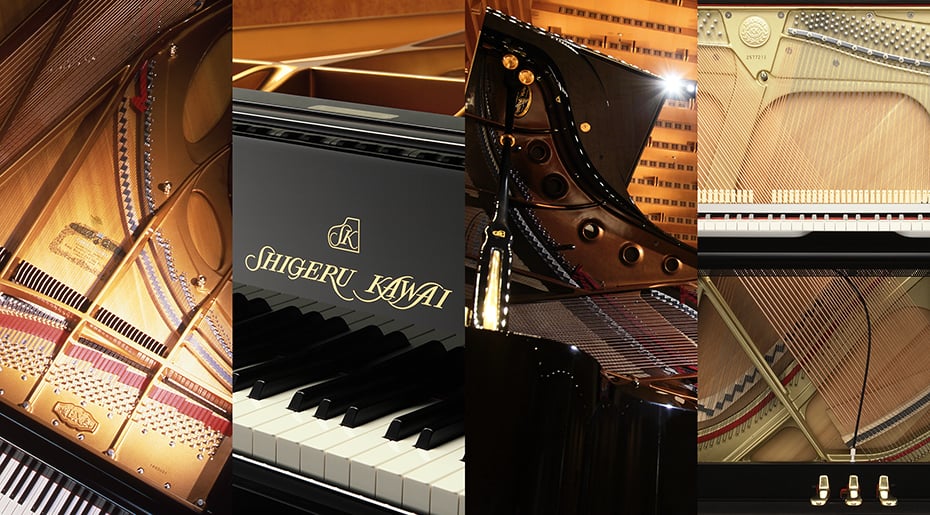 Personalised Piano Adjustments
The knowledge and skill of an experienced piano technician is essential to bring out the best of a fine acoustic piano. In addition to tuning each note, the technician also performs numerous regulation and voicing adjustments that allow the instrument to truly sing.
The CA99's powerful Virtual Technician function simulates these refinements digitally, allowing discerning musicians to shape aspects of the selected piano's character to suit their personal preferences.
Perform touch weight and voicing adjustments, regulate hammer and key release noises, and fine-tune string, damper, and cabinet resonances. It is even possible to adjust the precise tuning, volume, and character of individual notes – all in real-time.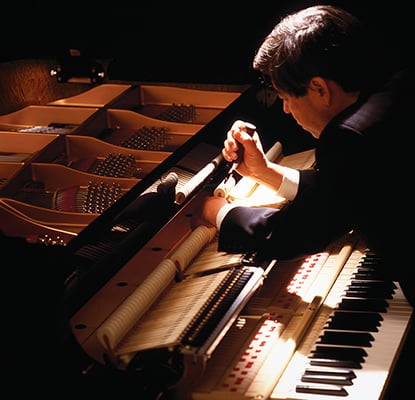 Rich Sound Selection
Supplementing the beautiful acoustic piano voices, the CA99 also features an excellent selection of additional instruments, ranging from electric pianos and drawbar or church organs, to strings, human choirs, and synth pads, inviting musicians to add greater variety to their performances.
Furthermore, the Dual playing mode also allows two different sounds, such as grand piano and strings, to be layered together for a richer, more luscious tone, while the Split and Four Hands modes divide the keyboard into two independent sections with separate sounds for each. The volume balances and other settings for each playing mode can also be easily adjusted using the instrument's intuitive touchscreen interface.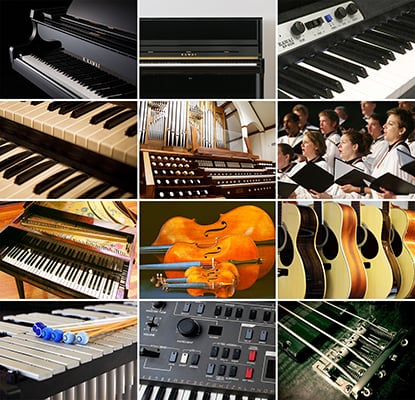 Premium Speaker Drivers
As the flagship model of the Concert Artist series, the CA99 features a powerful hybrid speaker configuration that combines premium driver units with Kawai's highly-regarded soundboard speaker technology, delivering crystal clear treble frequencies and warm, resonant bass.
In addition to premium audio processing and amplification hardware, the CA99 also features high specification speakers, developed by audio specialists Onkyo. These premium drivers were selected for their flat frequency response and ultra-low distortion characteristics, ensuring the most accurate reproduction of the original Shigeru Kawai SK-EX concert grand piano.
The four top-mounted speakers project mid-range frequencies with clarity, and expand the perceived depth of sound to recreate the length of a grand piano. In addition, two dome tweeters placed behind the upper board provide a feeling of proximity and presence for the player, and allow the authentic resonances generated by the SK-EX Rendering sound engine to sparkle and shimmer just like an acoustic instrument.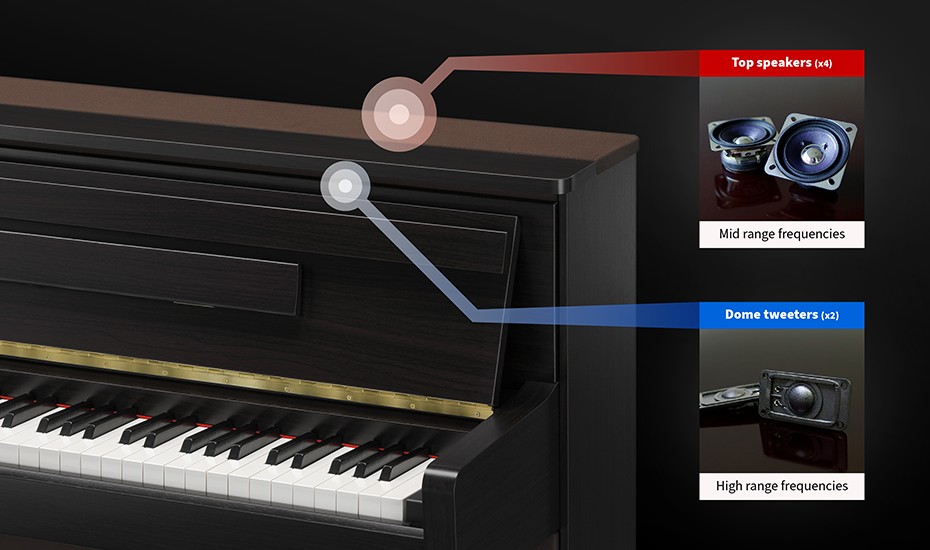 TwinDrive Soundboard Speaker System
Complementing the premium quality drivers, the CA99 also incorporates the latest version of Kawai's highly-regarded soundboard speaker system. This unique audio technology embraces the rich, harmonic qualities of wood by using transducers to channel sound energy onto a large soundboard, in order to produce a more natural, organic tone. Long wooden ribs securely attached to the soundboard further broaden the frequency range and volume of the resonating sound, resulting in a remarkably authentic playing experience that immerses the performer, and faithfully reproduces the tonal ambience of an acoustic piano.

The TwinDrive system represents the third generation of Kawai's soundboard technology, and features an improved primary transducer redesigned to deliver more power and volume.
In addition, a secondary transducer, mounted towards the treble end of the instrument, helps to further expand the tonal range produced by the soundboard beyond the existing low frequencies, allowing mid-low and even mid-high ranges to also benefit from the warming, acoustic properties of wood.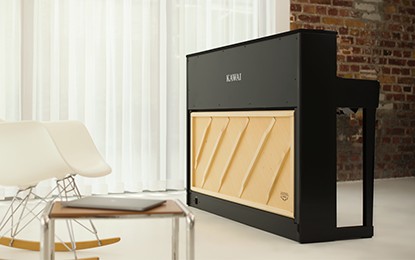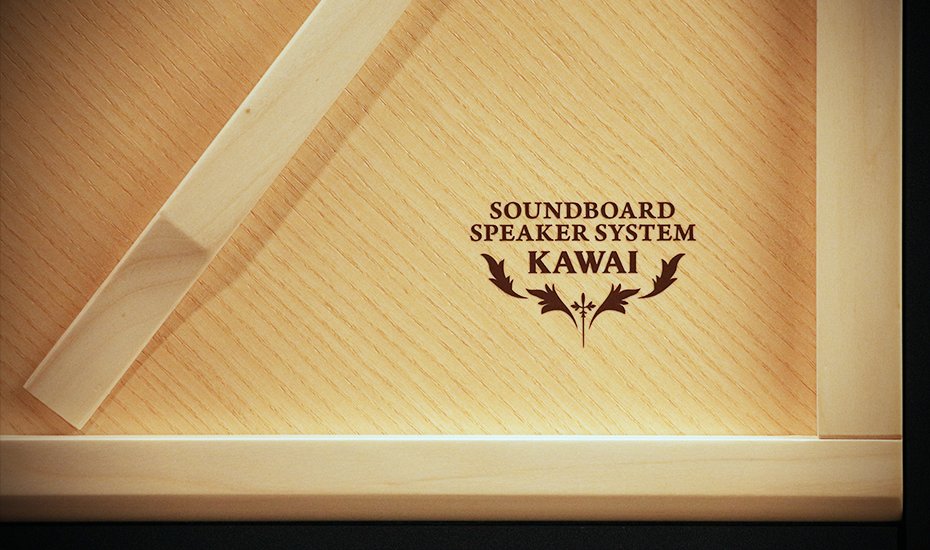 Integrated Bluetooth® Connectivity
In addition to standard USB and MIDI jacks for connecting to computers or other instruments, the CA99 also features integrated Bluetooth® MIDI and Audio technologies that allow the instrument to communicate with supported smart devices wirelessly.
Once paired with a phone, tablet, or laptop, Concert Artist owners can enjoy a wide variety of exciting music-related apps that enhance their learning and playing experience, or stream audio from songs and videos directly through the instruments' premium amplifier and speaker systems without the need to connect additional cables.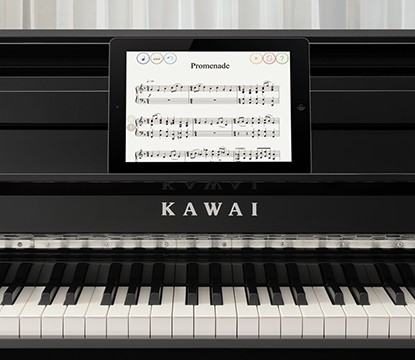 PianoRemote App
The CA99's redesigned communication standard allows the user-friendly touchscreen interface to also be accessed via the dedicated PianoRemote app for iOS and supported Android devices. The app connects to the piano wirelessly via the Concert Artists' integrated Bluetooth, providing an effortless way to change sounds, or enjoy the vast array of built-in music content from the comfort of an armchair.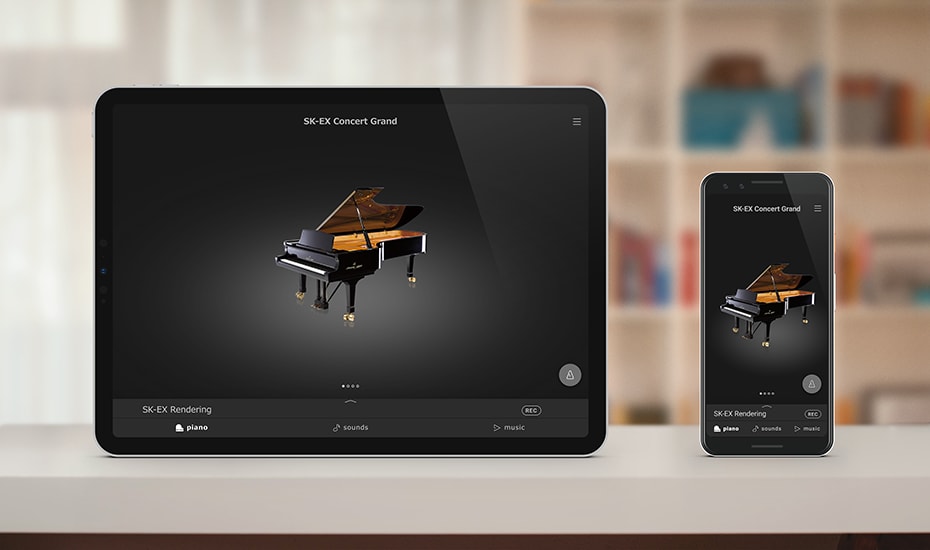 Built-In Lesson & Finger Exercises
The CA99's convenient lesson function allows aspiring pianists to learn piano with classical Czerny, Burgmüller, Beyer, Bach, Beethoven, and Chopin etudes, or a collection of songs from the popular Alfred's Basic, Adult, and Premier course books.
With a strong emphasis on acoustic piano realism, the Concert Artist also features traditional finger exercises, scales, and warm-up drills, and includes companion books for all classical scores to further aid one's piano development.
* Included score books dependent on market location.
* Alfred lesson books sold separately.
Grand Feel Pedal System
Reinforcing the Concert Artist's reputation as the most realistic digital piano is Kawai's Grand Feel Pedal System. This unique feature accurately replicates the position and individual weighting of the damper, soft, and sostenuto pedals of the Shigeru Kawai SK-EX concert grand piano to further enhance the CA99's acoustic piano-like authenticity.
Moreover, it is also possible to adjust the half-pedal sensitivity of the damper pedal, and effectiveness of the soft pedal using dedicated Virtual Technician parameters, allowing experienced pianists to personalise the instrument's response to match their individual pedalling technique.
Generous Part Exchanges Available
Get in touch with us if you have an existing digital or acoustic piano that you'd like to part exchange with us, and we'd be happy to let you know how much it could be worth.