Detailed Description
One of the key differences between the b2 and b1 is the b2's incorporation of a solid spruce soundboard (as opposed to the b1's laminated soundboard), and this makes a huge difference to the sound, ensuring that the b2 has a far fuller and more singing sound across its range. This is further enhanced by its larger cabinet, which effectively acts as a sound chamber from which the sound can resonate more sonorously.
B Series
Produced at a Yamaha factory in Indonesia from a scale design developed in Japan, b Series pianos are Yamaha's most affordable entry-level uprights. Although reduced production costs allow budget-friendly prices, Yamaha makes no compromises in the materials and workmanship that go into these exceptional uprights.
Supported by four sturdy wooden back posts and a strong cast iron frame, b Series pianos are endowed with Yamaha's renowned pure, clear tone. High-grade hammers and a proven action design offer effortless playing and a highly responsive keyboard 'touch' that make these uprights ideal for beginning players.
SC2 Silent System
With Yamaha's latest SC2 Silent System you not only have one of the most popular and highly-regarded upright pianos on the market, but also one that gives you the option of practising without disturbing others. It does this by activating a rail which stops the hammers from travelling all the way up to the strings. You therefore benefit from the normal weight and feel of the hammer action but without creating any acoustic sound.
Instead, optical sensors – located under the keys – detect all the various nuances of your playing and convert this into sound that has been sampled from Yamaha's CFX Concert Grand piano through the included headphones, and you also have the option of hearing Bösendorfer's Imperial Concert Grand (along with 8 other instruments). In the case of the CFX, the sound has been sampled binaurally, which gives you the most authentic, acousticsounding sample available. And Yamaha's Virtual Resonance Modelling further replicates all of the natural resonance that acoustic instruments are capable of.
Colin Smithers, Sales Manager at Richard Lawson Pianos
The Smart Pianist App
Enjoy your piano more with the Smart Pianist app. This specially designed app provides a variety of music-related functions when connected to a compatible instrument. The app is Android and iOS compatible.
Features include easy voice selection, adjusting of parameters such as reverberation, layering of voices, transposing, backing band accompaniment*, hundreds of built-in MIDI songs with notation, piano lessons pieces,  and the "Audio to Score" function** that automatically creates a piano accompaniment score from songs on your smart device.
*CSP Series only.
** CSP Series and CVP-805 / 809 / 809GP only.
Learn The Piano With Yamaha And Flowkey
Flowkey is an exciting app for learning how to play the piano. The app offers a huge selection of interactive songs, tutorials and courses. These give you immediate feedback on your piano playing and support your progress. Combine your Yamaha acoustic piano, digital piano or Yamaha keyboard with Flowkey and you too will soon be able to play your favourite music.
The piano app is also a very intuitive way to learn for those returning to the piano after a break. Flowkey not only offers songs, tutorials and courses for beginners but also for those taking up playing again and advanced players – the app has a suitable exercise whatever your proficiency.
Register your new product and gain premium access to the app free of charge for three months!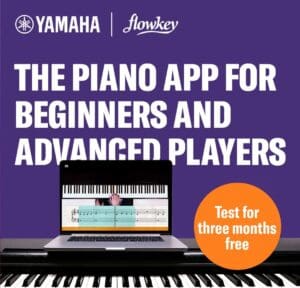 Generous Part Exchanges Available
Get in touch with us if you have an existing digital or acoustic piano that you'd like to part exchange with us, and we'd be happy to let you know how much it could be worth.