Detailed Description
Exactly the same length as the C1X, the Yamaha GC1 is available at a more affordable price due to savings in materials and production. Nevertheless, it is based on the former C1M grand. A little longer than the entry-level GB1, the GC1 also benefits from Japanese-built craftsmanship, more refined parts and duplex scaling (lacking in the GB1). This gives it a far richer and more colourful tone across its range, but particularly in the higher treble where the duplex scaling allows sections of the string which are normally 'non-speaking' to partially resonate in sympathy with the main note. Being a smaller baby grand, the GC1 is highly suitable for smaller spaces, and a viable alternative to an upright piano.
TA2 TransAcoustic System
This model incorporates the up-to-date SH2 Silent System, meaning that you can practice without disturbing others, by using headphones. However, you may be tired of using headphones all the time, whenever you wish to practice, for instance late at night. With the TA2 TransAcoustic system you have full volume control over the piano without the need for headphones! How does it do that?
By utilizing two transducers which are strategically attached to the soundboard, it is possible to transmit the digital sound that would normally coming through the headphones through the natural wood of the soundboard itself, thus effectively using the soundboard as an amplifier. This means that you're benefiting from the highly resonant qualities of the spruce wood whilst also being able to turn the volume up and down in the usual way. You can also play all the other voices (e.g. strings, organ, electric pianos), and similarly hear them all come from the piano itself.
In addition to this, even though the strings are not being struck in this mode, they are still resonating in sympathy with the vibrations of the soundboard (whenever the right pedal is being used), which further enriches the sound. You can even play audio files through the piano from your smart device via Bluetooth. Lastly the compatible Smart Pianist app gives you even more control over the instrument by allowing you, for example, to change the sound in terms of different venue reverberations, transpose, tuning and so on.
Colin Smithers, Sales Manager at Richard Lawson Pianos
The Smart Pianist App
Enjoy your piano more with the Smart Pianist app. This specially designed app provides a variety of music-related functions when connected to a compatible instrument. The app is Android and iOS compatible.
Features include easy voice selection, adjusting of parameters such as reverberation, layering of voices, transposing, backing band accompaniment*, hundreds of built-in MIDI songs with notation, piano lessons pieces,  and the "Audio to Score" function** that automatically creates a piano accompaniment score from songs on your smart device.
*CSP Series only.
** CSP Series and CVP-805 / 809 / 809GP only.
Learn the piano with Yamaha and Flowkey
Flowkey is an exciting app for learning how to play the piano. The app offers a huge selection of interactive songs, tutorials and courses. These give you immediate feedback on your piano playing and support your progress. Combine your Yamaha acoustic piano, digital piano or Yamaha keyboard with Flowkey and you too will soon be able to play your favourite music.
The piano app is also a very intuitive way to learn for those returning to the piano after a break. Flowkey not only offers songs, tutorials and courses for beginners but also for those taking up playing again and advanced players – the app has a suitable exercise whatever your proficiency.
Register your new product and gain premium access to the app free of charge for three months!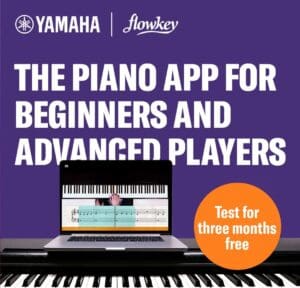 Generous Part Exchanges Available
Get in touch with us if you have an existing digital or acoustic piano that you'd like to part exchange with us, and we'd be happy to let you know how much it could be worth.