Detailed Description
Acoustic Tranquillity
The sound of hammers striking strings, resonating through solid spruce. Warm vibrations that illuminate a room, leaving its audience enchanted. The natural voice of an acoustic piano is truly unmistakable.
A fine piano entices musicians to perform with spontaneity and passion, yet such unbridled expressiveness may not always be appropriate. Indeed, in certain environments, an acoustic piano can prove disruptive; the diligent tones of children practising scales are unlikely to be welcomed by other family members wishing to watch television, while even the most gentle, soothing Chopin preludes have the potential to irritate neighbours if performed after an acceptable time.
Fortunately, AnyTimeX3 instruments incorporate an acoustic muting feature with powerful digital audio components, allowing pianists to continue enjoying the distinctive feeling of a traditional piano, while listening discreetly using private headphones. The AnyTimeX3 models come with newly developed Kawai SH-9 headphones. These are specially matched to the internal sound source of the instruments.
Tone
With the acoustic components muted, KAWAI AnyTimeX3 pianos employ a unique digital technology, developed and refined at the Shigeru Kawai Research & Development Laboratory in Ryuyo, Japan, calling upon the finest hand-crafted KAWAI SK-EX and EX Concert Grand pianos to deliver an unmistakably warm, authentic tone. Placed inside a purpose-built anechoic chamber, free of audio reflections, the rich sounds of this world class instruments are meticulously analysed and recorded by our Master Piano Artisan pioneers. The acoustic portrait of each note is later transformed into a highly precise three dimensional digital representation, employing KAWAI's proprietary Harmonic Imaging™ technology. This unique process faithfully reproduces the broad dynamic range of the original grand pianos, while also providing the source for a rich selection of additional high-quality instrument sounds.
Natural, Acoustic Piano Touch – Even When Muted
ATX3L instruments incorporate Kawai's advanced IHSS (Integrated Hammer Sensing System) technology, utilizing contact-less optical sensors to accurately capture the subtle movements of the action hammers.
This allows the full range of expression from delicate pianissimo to thunderous fortissimo to be performed with fluency, and for the natural touch of the piano to be maintained, even when the acoustic sound is muted.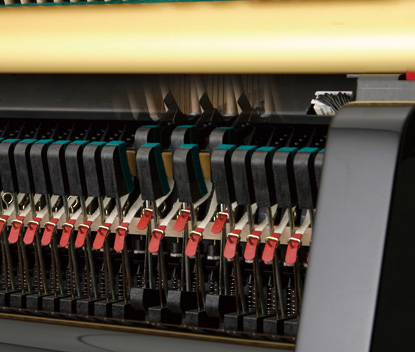 Digital Convenience
The control box is placed below the keybed. Digital operation greatly extends the capabilities of the ATX3L piano beyond that of a traditional acoustic instrument, with convenient transpose and tuning facilities, a metronome and a selection of high fidelity sounds suitable for various musical occasions. Dual headphone sockets provide greater flexibility for academic institutions, while other connectors allow a range of creative music-making opportunities.
Progressive Harmonic Imaging (PHI)
When playing a fine piano, the amount of pressure applied to the keyboard affects not only the volume of the sound produced, but also the unique tonal character of each note. Therefore, in order to construct realistic acoustic portraits of the SK-EX and EX concert grand pianos, not only is each key recorded individually, but also at various different volume levels, ranging from gentle pianissimo to thunderous fortissimo. The new K-15 ATX3L offers a highly detailed acoustic portrait, employing Kawai's unique Progressive Harmonic Imaging sampling technology to ensure smooth tonal transitions across the keyboard and throughout the entire dynamic range.
88-key Piano Sampling
The beautiful sound of the Kawai SK-EX and EX concert grand pianos is at the heart of the new K-15 ATX3L, with all eighty-eight keys of these world-class instruments painstakingly recorded, meticulously analysed, and accurately reproduced as high-fidelity digital waveforms.
Recording each key individually in this way – as opposed to stretching the same tone over several different notes – preserves the rich harmonic character of the SK-EX and EX concert grand piano, and guarantees that the sound heard when playing any key is a faithful representation of the original acoustic source.
In addition, ATX3L instruments also feature 192 notes of polyphony, allowing complicated passages that require continuous use of the damper pedal to be enjoyed without notes muting unexpectedly.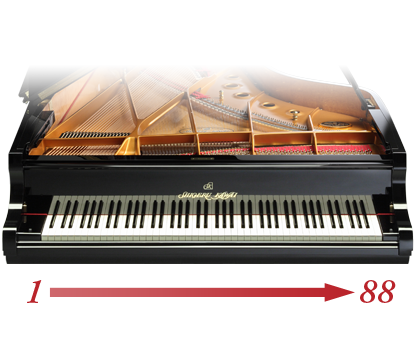 Akustik Piano variety
The AnytimeX3 models showcase a variety of grand piano sounds that are suitable for a wide range of musical periods and styles.
The Variety of a Digital Piano
Supplementing the beautiful acoustic piano voices, the AnytimeX3 models also feature an excellent selection of additional sounds, ranging from electric piano and drawbar or church organ, to strings, and other instruments, inviting musicians to add variety to their performances. The depth of a performance can then be transformed using the reverb features, allowing pianists to position themselves within one of six acoustic environments, ranging from a small practise room to an inspirational grand cathedral.
High quality headphones included
ATX3L instruments include a pair of high quality headphones, allowing pianists to enjoy the feeling of playing the piano even when the acoustic sound is muted.
These headphones have also been engineered for comfort, to prevent ear fatigue when practicing for extended periods of time.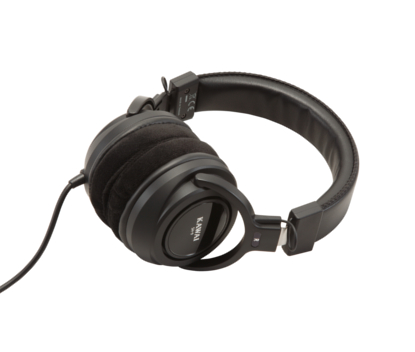 Generous Part Exchanges Available
Get in touch with us if you have an existing digital or acoustic piano that you'd like to part exchange with us, and we'd be happy to let you know how much it could be worth.