Piano moving in Hertfordshire, London and nationwide
Piano Moving by Professionals
At Richard Lawson Pianos, we provide a professional piano moving service throughout Hertfordshire, London, and beyond across the nation. To prevent any damage to your piano, it is advisable that when requiring removal services, you should enlist specialist services to move your pianos, as companies such as ours have the right knowledge, experience and tools to get your piano from A to B safely.
Pianos are heavy, bulky objects, but they are also very delicate and require the utmost care when handling for removals. Whilst damage may not necessarily be seen on the outside, a small injury to the instrument could result in damaging the internal mechanisms. When you consider repair costs, it is better to be safe than sorry and make sure to leave moving your piano to the professionals. When moving house, or when first buying a piano, it is necessary for it to be carried by more than one person.
At Richard Lawson Pianos, we use specialised tools like dollies. Combining the tools of the trade with the correct technique, our movers can transfer your piano from one place to another more easily and safely. We also make use of skids to wheel the piano and decrease the risk of it falling. Additionally, we take the necessary precautions when wrapping it, using blankets or padding material to make sure it stays in one piece during transportation.
Moreover, we make sure to find the best route to move your piano, both in terms of getting it inside or out of your home, manoeuvring through tricky doorways and hallways, and when in transit. Prior to the moving of your piano, we carry out an assessment of your home, measuring halls, staircases, doorways and anywhere else required to find the best passage through your home.
Our piano movers are knowledgeable about how the instrument works, so they know which parts of the piano require the most protection. We offer affordable piano moving with a high-quality service.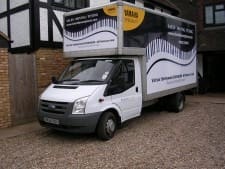 Need a piano moving in Hertfordshire, London or Buckinghamshire? Call us today on 01923 720 974