Yamaha Pianos
Searching for a piano that will last a lifetime? Then look no further than world-renowned Yamaha.
Amongst some of the most widely played pianos in the world, Yamaha has a well-deserved reputation for musical excellence. Their pianos are synonymous with quality craftsmanship, superb sound performance, and exquisite design.
By opting for a Yamaha piano, the only worry you'll have is deciding which one to buy…
A Yamaha for everyone
Whether you're a seasoned professional on the lookout for a premium grand piano, a new learner, or a school looking to enhance your musical offering to pupils, Yamaha can offer a solution. And, here at Richard Lawson Pianos, we'd be delighted to assist. With our extensive Yamaha collection, we can help you to find the ideal piano for your needs.
We stock a wide range of Yamahas for sale from the smallest models to top-of-the-range handcrafted 9ft concert grand pianos. Yamaha's upright pianos start with the B series, including the B1, B2 and B3, and incorporate the much-loved U series with upright pianos such as the U1 and U3.
We are also proud to offer Yamaha's Disklavier pianos that are excellent for use in musical education. These are available in upright or grand format, with a range of features such as electronic recording and acoustic playback.

Digital Yamahas
Toying between an acoustic piano and a digital piano? A Yamaha digital piano offer all the excellence you'd expect from an acoustic piano but with the added convenience afforded by new technology.
Yamaha digital pianos are fitted with hammer actions to enhance the playing experience, or if you want to stick with acoustic but are keen to harness digital features, you could try a silent piano.
Yamaha silent pianos are meticulously crafted using only the finest materials to offer you ultimate control, sounds and touch.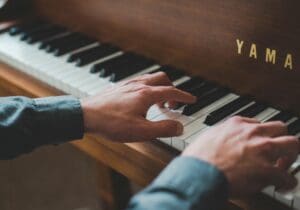 Pre-loved Yamahas
Thanks to the detailed skill and craftsmanship that goes into a Yamaha piano, with the right care you can expect them to last for many years. This is why we don't just supply brand new pianos but also have used Yamahas for sale too.
These fully refurbished pianos will usually cost between a third to a half of the price of a brand-new piano with a useable life of another 50 to 60 years – making them exceptional value for money.
All of our used Yamahas undergo a detailed 113-point check in Japan – many of them carried out by Yamaha – which covers every part of the piano. These rigorous inspections mean you can be completely confident that your piano is in excellent condition. What's more, regardless of whether the piano you purchase from us is brand new or used, we offer the same impressive five-year guarantee. For Yamaha pianos for sale, choose Richard Lawson.
Buy a Yamaha piano
For Yamaha pianos for sale, choose Richard Lawson Pianos.
Wondering what makes us better than any other piano retailers out there? Easy – because not only do we stock a great range of new and pre-loved Yamaha pianos at great prices, but we also offer exceptional customer service.
We won't rest until you find the right piano for your needs. And thanks to our no quibble 30-day trial period, you can shop with complete confidence.
With classic upright pianos, impressive grands, silent pianos, powerful digital models, and the exciting TransAcoustic range, this is a brand that certainly delivers on choice. And we're here to help make sure you make the right one!
Shop the Yamaha collection below or to discuss your requirements in more detail, and benefit from expert assistance in choosing the right Yamaha for your needs, get in touch. We'd love to help.
Showing 1–12 of 189 results
Is Yamaha a good piano brand?
You may recognise Yamaha as a trusted name for motorcycles but what if you're more of a 'piano' rather than a 'petrol' head?
It's the same story.
Yamaha are just as regaled for their instruments as they are for their automobiles, with a Yamaha piano ranking as one of the most popular and reliable brands on the market.
Whether you're new to playing, buying for the kids, or looking for a concert-worthy grand piano, you'll find a wealth of choice from the Yamaha brand including grands, uprights and digitals, with prices to suit all budgets. To find out more about Yamaha pianos, get in touch with the team.
How long will a Yamaha piano last?
As the adage goes – quality lasts. And Yamaha pianos are definitely quality.
Properly cared for, there's no reason you can't expect a lifetime of enjoyment from our Yamaha pianos. But, as with all instruments, it is important to look after your piano properly.
The best way to ensure your piano lasts is:
· Have it regularly tuned. We recommend professional tuning every 6 -12 months. It's also recommended to book in an extra tune if you've recently moved the piano or detect a change in sound.
· Make sure you house your piano in a suitable location – away from drafts, damp, excessive sunlight etc.
· Use special mats to protect from underfloor heating.
· Don't use your piano as a sideboard – keep drinks away, and if you do sit ornaments or other items on the casing, make sure they won't scratch.
Are Yamaha pianos suitable for beginners?
Yamaha pianos are a reliable choice. With an extensive portfolio of models, there is sure to be a Yamaha for everyone – especially beginners. A great starter piano is the Yamaha U1 piano – perfect for entry-level playing but with plenty of capability as your playing skills develop.
Alternatively, you could go for a digital Yamaha piano, where you can control volume or use headphones – sparing others from the relentless sound of those early days of practise.
For help picking out the right Yamaha piano for your playing level, aspirations, and budget, get in touch.
Richard Lawson Buyer's Guide
Download our brand new Buyer's Guide to help you find your dream piano