Digital Pianos
Looking for something more than a keyboard but not sure a traditional acoustic upright or grand piano is quite right for you either? Then how about buying a digital piano?
Here at Richard Lawson Pianos Ltd, we stock a great choice of digital pianos and we are confident we can help you to find the perfect model for your needs.
What is a digital piano?
A digital piano blurs the lines between acoustic and digital sound, sitting somewhere between an acoustic piano and an electronic keyboard.
The first most notable point about a digital piano is that it has no strings – and will never require tuning! Instead, the keys act more like a 'switch' to trigger a specific sound.
However, unlike a keyboard, many leading manufacturers, such as Yamaha, fit their digital pianos with hammer actions, in order to mimic the feel and dynamics of playing a traditional piano. This not only enhances the playing experience, but offers players the same response to touch that is achieved with an acoustic piano – making switching between the two a far smoother transition. Ideal if you want the compact convenience of a digital model at home but will be playing acoustic pianos elsewhere.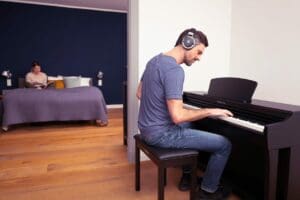 Why choose a digital piano?
It's a tech savvy world out there and even our instruments have to move with the times.
Typically smaller than an acoustic option yet still with 88 keys, digital pianos are lightweight and compact – great if you're short on space or always on the move.
They combine exceptional sound quality with modern-day convenience and are perfect for any budding composers. With MIDI output or built-in Bluetooth for wireless connection to smart devices, you can hook your instruments up to your computer allowing you to record, edit and even add in additional instruments to your playing!
Digital pianos versus acoustic pianos
Thanks to rapid development in the tech world, digital pianos have evolved hugely since the first electronic grand piano was produced back in 1979.
The capabilities now housed within these compact instruments is so advanced, they confidently hold their own in the piano market. In fact, we'd defy even the most discerning of piano players not to be impressed.
Why play one instrument when you can play them all? With a digital piano, you can add in accompanying instruments and mix things up with a variety of musical sounds. You have the power to produce music in your own bedroom, record and edit playing, and even improve your playing with specially designed apps.
If you're looking for a piano that works for all ages and abilities, a digital piano is it. Fun and engaging for youngsters, perfect for aspiring music producers and pitch-perfect for accomplished pianists.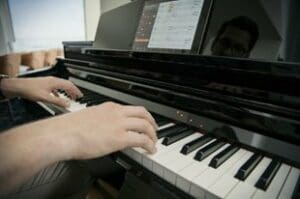 Best digital piano brands
At Richard Lawson Pianos, we pride ourselves on offering a great range of digital pianos, and always at competitive prices. Shop with us and you'll find all the renowned names including favourites Yamaha and Kawai. You can also choose between both new and pre-owned digital pianos.
Digital pianos for sale from Richard Lawson Pianos
View our collection of digital pianos for sale below, or for more information and advice on choosing the right piano for your needs, please don't hesitate to get in touch with the team.
As an experienced piano supplier, we have detailed knowledge and understanding of the intricacies of all the makes and models we supply. And we are always happy to talk through all the options available to ensure you choose the right piano for your needs.
FAQ's
Are digital pianos as good as real pianos?
Quick answer? Yes. We wouldn't sell them if they weren't.
Ok, so the intricate sound nuances and musical depth of an acoustic piano may not be quite as detailed with a digital instrument but balance that against everything you gain and we're confident you won't be disappointed.
We're talking modern-day conveniences such as volume control, the option to plug in headphones, the capability to hook up to all your other Bluetooth devices, and even learn to play online with comprehensive apps. And that's just for starters! You also get a more portable, compact musical instrument and – even better – a more pocket-friendly price.
To find out more about digital pianos, why not chat to a member of the team? We'd love to help!
Is a digital piano the same as a keyboard?
No, a digital piano is not the same as a digital keyboard, but we do get asked this question frequently.
The distinction lies in the name…a digital piano is specifically designed to mimic the look, feel and sound of an acoustic piano. In comparison, except for the keys, a keyboard rarely replicates much of a piano's form and is usually favoured for a wider range of sounds. If you're looking for the crash of cymbals or a barking dog, then a keyboard could be just up your street. But if you're seeking a true piano sound, combined with the practicality and convenience of modern technology, then it's a digital piano that you need.
Do digital pianos still need tuning?
No! This is one of the most popular features of a digital piano, they don't require tuning – ever!
With no strings, the need to tighten and retune regularly is completely removed. Taking with it the cost and inconvenience of arranging professional tuning, which for acoustic pianos is recommended at least every 6-9 months.
Switch up your room layout and transport digital pianos from A-B, all with no danger of upsetting delicate string balance and impeding sound quality.
With a digital piano, you can be confident of the same great sound, every time you play.
How much do digital pianos cost?
Typically, you can expect a digital piano to cost less than a traditional acoustic piano. However, how much you pay will depend on the make and model you choose and the range of features you're looking for.
As a guide, the cost of a new digital piano usually starts from around £500, with prices ranging to in excess of £15,000. We don't want anyone to miss out on the joy of owning a piano, which is why we're  part of the 'Take it Away' scheme, offering interest free loans of between £100 and £5000. Talk to a member of the team to find out more.
Showing 1–12 of 73 results
Richard Lawson Buyer's Guide
Download our brand new Buyer's Guide to help you find your dream piano