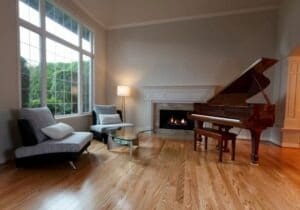 Check the calendar and you'll find it's still summer – although look out of the window and you may think differently!
As usual, there's a buzz of optimism that emerges late every August proclaiming the possibility of heatwaves and Indian summers. Who knows what the weather will bring, but one thing we do know is that changes in our climate can really affect how we feel.
A sudden rise in everyday temperature, for the most part, is enjoyable. But for many people everyday tasks become more difficult, judgment can be impaired, and we simply just don't perform at quite our usual levels.
And if the heat is capable of having this effect on us, have you spared a thought for what it could be doing to your piano?
How does the weather affect your piano?
Pianos are complex instruments. For all their imposing stature they are actually rather delicate and can be vulnerable to extremes in temperature.
Already wound tightly, cold weather causes piano strings to contract even further putting them under increased pressure. Yet at the other end of the scale, turn up the heat and strings can swell and stretch.
Although visible changes are minimal – you'd struggle to see anything with the naked eye – a trained ear can certainly hear the difference.
As we all know, nothing lasts forever and dramatic changes in temperature – hot or cold – soon settle. Unfortunately though, the same can't be said for piano strings it's unlikely the pitch and tone will return to normal until your piano is professionally tuned.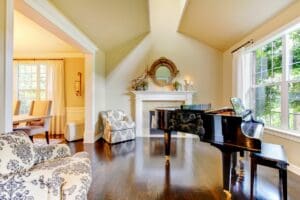 How can you protect your piano from the heat?
If you're able to control the climate of the room your piano is in, then do. Airconditioning is a great way to do this, but if nothing else, be sure to draw curtains and open windows on hot days to allow air to circulate and keep the temperature down.
Don't forget that it's not just the weather outside that can be a problem. Do you love to crank the central heating up as soon as the summer sun fades? If this sounds familiar then try to avoid positioning your piano directly beside a radiator. Lovely as it may be to practice in the warmth on a cold winter's day, the extremes between heat pumping out and then being switched off when you're not about, won't do your piano any good.
To find out more about positioning your piano, check out our blog 'Where's the best place to put a piano?'
The importance of regular tuning
There are numerous factors that influence the need to tune a piano, but one of the biggest? Heat.
Fluctuation in the temperature surrounding a piano causes the strings to expand and contract which, over time, will begin to cause notes to sound flat or sharp.
Professional tuning is crucial to stay on top of performance and ensure your piano plays at its best throughout the seasons.
Professional tuning from Richard Lawson Pianos
At Richard Lawson Pianos we don't just supply pianos we care for them too. And offer a professional tuning service.
We recommend you schedule tuning roughly every 6 months – although if the weather has been unseasonably hot or cold – or you notice any irregularities in the sound – it's always advisable to make an appointment sooner rather than later. That way you can be confident your piano will play perfectly, whatever the weather.
To book piano tuning or for further advice about any aspect of piano care, be sure to contact our knowledgeable team. You can call us on 01923 720 974, email info@richardlawsonpianos.com or complete our contact form and we'll be in touch shortly.