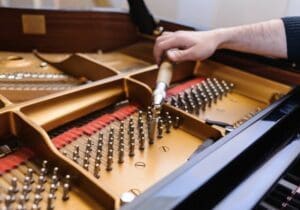 The piano has one of the most captivating sounds of any instrument. But without proper care and attention that magic can be lost. To prevent this from happening – and keep your piano sounding its sweetest – regular, professional, tuning is essential.
But why does a piano need tuning, how can you tell if it needs doing and how often should it be done?
These are just some of the things our team at Richard Lawson Pianos, get asked on a regular basis. So here we take a moment to answer your questions fully, so that  – if you love pianos as much as we do – you can make sure yours receives all the care and attention it deserves.
Why do you need to tune a piano?
People often think that the biggest factor in a piano going out of tune is how frequently it's played. Some believe that if the piano is idle, it will lose pitch. Others that if it is heavily used the strings will overstretch, compromising its acoustic accuracy. Both are wrong.
In fact, it is the surrounding temperature and humidity that play the biggest part. As these environmental factors cause the piano's soundboard to expand and contract, this puts pressure on the strings which causes the notes to go flat or sharp.
How do you know if your piano needs tuning?
If you play regularly, and only ever on the same piano, it can be difficult to detect when a tuning is required. The change in sound is often a slow slip and your ears (especially if you're not pitch perfect) can miss the gradual shift in tone.
This is why it's best to routinely schedule in tuning to ensure you stay on top of any changes. That way you can always be confident you are playing your piano at its best.
Moved to a new house or changed your piano's location? Then you need to book in for a tuning. It's recommended to allow around 3 weeks for the strings to settle and for the piano to adjust to its new surroundings. But, once that's done, it's important to have it properly tuned.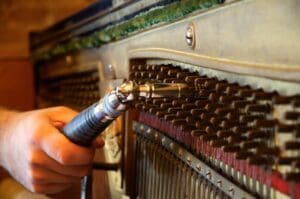 How often should your piano be tuned?
If you notice any irregularities in the sound produced, or if you have recently moved your piano, then it's advisable to get it checked out and make an appointment for it to be tuned as soon as possible – even if it's only recently been done.
Outside of this though, the general rule of thumb to ensure you maintain pitch-perfect sound, is to schedule in routine tuning every 6-9 months.
Book professional piano tuning today
At Richard Lawson Pianos, we are a nationwide piano dealer, boasting an in-house team of technicians, craftsmen and expert tuners! Our skilled team can assist with every aspect of piano restoration and maintenance – regardless of its age, make or model.
Keep your piano sounding its best with our professional and reliable tuning services. To find out more, or to book a tuning appointment, please get in contact with the team. You can call us on 01923 720 974, email info@richardlawsonpianos.com or fill in our contact form and we'll be back in touch as soon as we can.