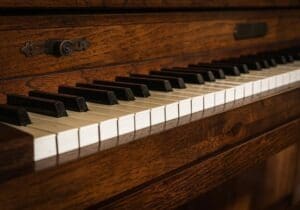 Is it worth buying a pre-owned piano?
It's a question we get asked all the time here at Richard Lawson Pianos. Fortunately, the answer is easy – yes!
A pre-owned piano can be a great – and affordable – way to get your hands on one of these hugely popular instruments. And with a piano that has been loved, cared for, and lovingly refurbished by skilled technicians, we'd challenge you to spot the difference – other than the price tag!
That said, it doesn't mean there aren't potential pitfalls out there and things you need to be wary of. Here we take a look at why opting for a pre-owned piano could be right for you and what to be on the lookout for.
Things to be aware of with a pre-owned piano
Appearance – while the external casing may not directly affect the playing of a piano it may impact on your pleasure. Scratches, dents and damage to the outer body, not only spoil the look but can be a sign the piano hasn't been well cared for. Discoloured keys can also be an indication of poor maintenance and suggest the piano may have been stored in a damp environment.
Sound – crucial to a piano is its sound, so play the keys and see how they react. If they stick it's usually down to swollen felt, which can again be a sign of over exposure to moisture. Whilst some retuning is to be expected, it's advisable to thoroughly check the soundboard for signs of damage or cracks – worth noting though, that an expert is usually needed to do this properly.
History – try to get a proper feel for a piano's previous life. For example, how many owners has it had? If the answer is just one, then it's unlikely the instrument has been subjected to excessive movement or manhandling. On the flip side, if it's had multiple owners, or was used in a school, it is more likely to have endured heavy use.
Tuning – if a piano has gone for a prolonged period of time without being properly tuned it's likely it may take more than one tuning session to get it back on track. Not necessarily a problem, but you will need to factor it into your costs.
Make – by sticking to renowned manufacturers such as Yamaha, Kawai, Steinway and Petrof, you're guaranteed a quality pre-owned piano. It's also more likely that you'll be able to get hold of replacement parts should they be needed in the future.
Age – remember to ask how old a piano is. Typical life expectancy is usually 50-65 years, but high-quality refurbished instruments can last much longer even than this, with Japanese-built Yamaha's (such as the U1 and U3) lasting anywhere from 80-100 years, potentially. With the right care, a piano can last a lifetime, which means that most pre-owned pianos have many decades left in them.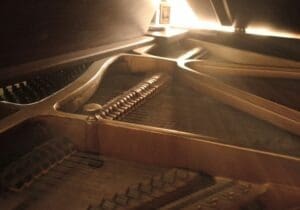 Benefits of buying a pre-owned piano
Perhaps the biggest temptation of a pre–owned piano is the cost. It goes without saying that a pre-loved instrument will be substantially less expensive than buying brand-new.
The actual price you pay will vary according to the condition, make and model, but as a general rule, you can often pay around 50% less for the equivalent pre-owned version.
Pre-owned pianos also hold their value more than a new piano. So, should you decide to sell in the future, you'll be in a better position.
Where's the best place to buy a pre-owned piano?
Google pre-owned pianos and you'll be hit with endless options – private sellers, buying sites, auctions.
One of the most secure ways to ensure you get value for money and are truly happy with your purchase, is to buy from a professional piano dealer. But remember, not all piano dealers offer the same level of service, so be sure to do your research. Check out reviews from previous customers and be on the lookout for a warranty, regardless of age.
Pre-owned pianos from Richard Lawson Pianos
Here at Richard Lawson Pianos, we have our own skilled team of in-house technicians, tuners, and craftsmen, who can deal with all manner of restoration issues and restore pianos back to their full glory. Most of our pre-owned Yamahas, however, have been carefully restored in Japan before coming to the showroom, many of them by Yamaha themselves.
We're so confident about the quality of our pre-owned pianos, we offer the same excellent 5-year guarantee whether you're buying new or used.
Take a look at our range of new and pre-owned pianos now, pop into our showroom or get in touch to speak to a member of the team.