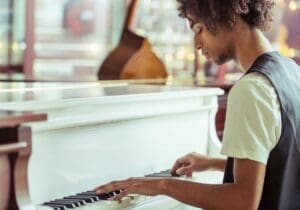 Buying a piano? Congratulations! But do you know what to look for when it comes to purchasing?
There's a world of choice out there and no doubt you're keen to get started. Before you do though, there are a number of things to think about…
#1 – The type
The iconic grand, uprights, digital, silent…the list goes on, and if this is your first time buying a piano, it can feel a little overwhelming. So before you start, it's a good idea to research the different types of piano available, and learn how they differ and what they can offer you.
#2 – The sound
So you're categoric that you want a digital piano – but have you ever actually heard one play? They're a popular option and one that comes complete with many modern advantages. But whilst the sound is excellent, there's no point pretending it's exactly the same as a traditional acoustic. Every piano has its own tone – some brighter, some more mellow – so you need to be clear about the sound you prefer.
#3 – The quality
There are a number of brands that have earned themselves a reputation for excellence and are generally considered to be a good choice – these include Yamaha, Kawai, Steinway, Petrof and Bechstein.
#4 – The size
Yes, choosing a piano should be about the feel and sound it produces, but it's such an imposing instrument that it needs to be about size and style, too.
If you'd like your piano to take centre stage, a compact digital frame might not cut it. Equally, if you want a more modern appearance or a model that will squeeze into your compact apartment, it's probably advisable to steer away from a grand.
#6 – The location
Having considered your piano's size, it's also important to think about its location. Is it destined for the village hall, a school, or your terraced house? Does it need to be easy to transport and relocate? Do you need volume control or a silent mode, so you don't run the risk of disturbing neighbours? Giving thought to all these factors will help to ensure you pick the right model for your needs.
#7 – The guarantee
Buying with confidence is important, so check what guarantees are on offer. Most brand-new pianos should come with a 5-year warranty…and a lifetime of enjoyment!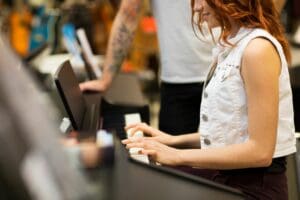 Common piano buying mistakes
A piano is a big investment, so make sure you don't get caught out with these common pitfalls:
Never tried the piano before
You'd be surprised how often this happens. It's easy to get swept up in the idea of buying a piano, but – unless you're buying it purely as a showpiece – it's crucial to actually try playing the instrument first, to establish if it's right for you.
Not researching prices
If you haven't done a bit of window shopping, the price tag of a piano can come as a bit of a shock. The range is extremely varied – with prices starting from as little as a few hundred pounds through to many thousands – so it's best to know which end of the scale you're shopping at before you start.
Haven't thought about ongoing costs
If the price can come as a surprise, then so too can the fact that pianos require regular maintenance, with professional tuning recommended every 6-9 months.
Planning to move in the future? Don't forget that pianos require great skill and care in order to be safely transported – you can't just pack them into the removals van and hope for the best. You'll need to pay for professional piano moving to ensure your precious cargo gets safely from A to B.
Over or underspending
First piano? An instrument for the kids to learn on? Then forking out for a brand-new grand probably isn't money well spent. Better perhaps to buy a pre-loved piano you might not be quite so precious over, or that children can hone their skills on first.
Equally, if you're already an established player, it could be worth paying slightly more to ensure you get a piano that offers everything you need.
Top tip
Now you know what to think about before you start shopping, and what to avoid, here's our last piece of advice: Try before you buy.
We're talking about visiting a showroom to take a closer look in person at the piano you're interested in. Sitting down at the keys to get a true impression of what it's like to play and how it sounds.
If finding time to visit is tricky for you, keep an eye out for piano dealers – like Richard Lawson Pianos – who offer trial periods and money-back guarantees. That way, if things don't work out and you discover you've made the wrong choice, you have peace of mind knowing you can return your purchase.
Shop with the experts
As experienced piano dealers, here at Richard Lawson Pianos, we understand better than most that there is no 'one size fits all' with this instrument. And we pride ourselves on offering an extensive range, with pianos to suit all playing styles – and budgets!
Understanding what you really want and need from a piano, researching and seeking expert advice are all crucial to ensure you make the right choice. So why not take a look at the pianos we have on offer right now? You can also get in touch with our friendly and knowledgeable team at any time, or make an appointment to pop into our showroom – we'd love to help!