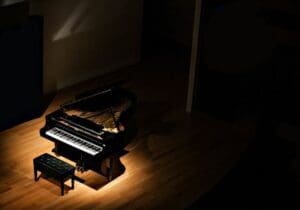 Conjure up the image of a piano and we'll guess it's a grand.
The iconic pianoforte shape with its lid majestically held ajar, is undeniably something to behold. Even the name suggests grandeur and excellence. In the musical world, the grand piano is largely regarded as the piano – but why?
Does the grand piano really deserve its status and live up to the acclaim? Here the piano experts at Richard Lawson Pianos take a closer look, so you can decide once and for all if the grand piano is truly worthy of its title.
What is a grand piano?
In an instrument lineup, most people could pick out a grand piano. But other than its recognisable shape, what else makes a grand piano?
The key feature is its strings.
Strung horizontally – as opposed to the space-saving, vertical strings of an upright piano – grand pianos are famed, and favoured, for their long horizontal strings, which allow for greater expression and sound control.
Also, the hammers of a grand piano rely purely on gravity to return to position, which offers more reliable note repetition. And with large sound boards and long strings, there really are no limits to the musical capabilities of a grand piano.
The 3 main benefits of a grand piano
Sound quality
There's a reason why grand pianos are favoured by professional players, found in concert halls and used in recording studios – their exquisite sound.
Long, horizontal strings vibrate over a large soundboard to produce the purest and most colourful of sounds, unrivalled by any other type of piano.
Expression
Thanks to the design of the grand piano, the keys are highly sensitive, enabling them to capture the depth and shade of each pianist's individual playing style.
Using much longer keysticks than are found in an upright, a grand piano's highly responsive action allows for a very wide range of expression to truly express all of the subtleties and nuances of the music.
Beauty
Walk into a hotel reception and it's only a grand piano that will take your breath away.
The ultimate showpiece, its curved elegance and beauty create a stunning focal point for any room. And, thanks to expert craftsmanship, the grand piano not only looks the part but it lasts too, with a design that has endured the test of time – and promises to continue to do so.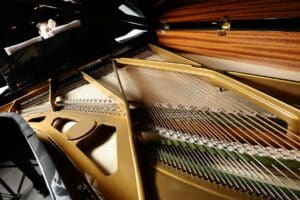 Are there any disadvantages to a grand piano?
In truth, it's hard to think of any but, yes, the grand piano does have a few drawbacks. The most notable of these is its size.
A grand piano is never going to 'slot' into place or tuck into a corner. So, if you're hankering after a grand piano, you're going to need room – and plenty of it.
If space is in short supply, you could take a look at the 'baby grand'. This alternative enjoys many of the features of a traditional grand piano but with the advantage of a smaller footprint.
You also need to consider the sound level. Grand pianos project sound more keenly than that of an upright, but with a sound as beautiful as this, we doubt you'll get many complaints! One solution, however, is to purchase a grand piano with a silent system. And then you can play for as long as you like without disturbing others.
Buying a grand piano
Whilst grand pianos invariably sit at the higher end of the market, they represent a sound investment and with the right care, you can be assured of a lifetime of enjoyment.
Why not take a look at the range of grand pianos we have available now? Shopping with Richard Lawson Pianos, you can always be confident of a fair price and rest easy in the knowledge that we offer a 30-day trial period. So, if you're not entirely delighted with your grand piano, you can return it to us with a no quibble guarantee.
Still unsure? If you're not convinced a grand piano is the right choice for you, then why not take a look at our full collection and browse the different types of piano we have available?
Don't forget that our friendly, knowledgeable team are always on hand and happy to help, so please don't hesitate to get in touch.