Detailed Description
An Excellent Introduction To Kawai's Portable Piano Line-Up
The ES110 is the latest addition to Kawai's highly respected series of portable digital pianos, combining our class-leading authentic keyboard action and piano sound technologies within a lightweight, affordable package.
Kawai has been crafting musical instruments for 90 years, maintaining traditional processes while embracing the very latest technical innovations. These decades of experience afford our engineers a wealth of knowledge from which to create stunning digital instruments, in a quest to perfect the art of the piano.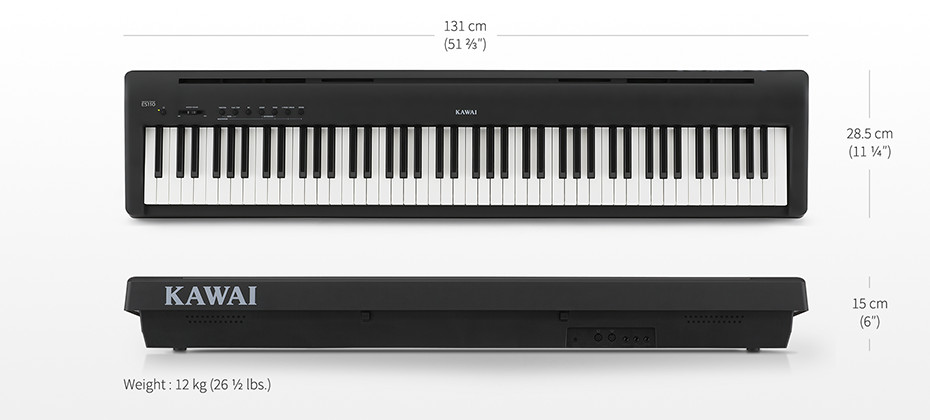 Realistic Touch, Natural Motion: Responsive Hammer Compact Keyboard Action
The ES110's brand new Responsive Hammer Compact keyboard action has been specially developed to allow portable instruments to reproduce the distinctive touch of an acoustic grand piano. Based on the highly-regarded RH action design, its spring-less technology and sturdy construction delivers consistent upward and downward motion for a smooth, natural, and highly authentic piano playing experience.
Acoustic Piano Key Weighting
Just as acoustic pianos utilise heavier bass hammers and lighter treble hammers, the RH Compact keyboard action also employs different hammer weights, appropriately graded for each playing range. Such details provide greater stability during fortissimo passages, while preserving delicate pianissimo control, to satisfy the demands of even the most discerning pianist.
The Sound Of A Grand Piano: Kawai EX Concert Grand
The Kawai EX concert grand piano is widely regarded by professional pianists and piano technicians as one of the finest instruments within its class. Hand-built by Master Piano Artisans at the Shigeru Kawai Piano Research Laboratory in Ryuyo, Japan, each EX instrument undergoes a meticulous regulation and refinement process within a specially designed anechoic chamber.
Following this lengthy crafting period, the completed EX concert grand piano receives a final series of rigorous quality inspections, before eventually taking centre stage in the world's most prestigious musical institutions and concert halls.
True Character In Every Note
The ES110 digital piano captures the beautiful sound of Kawai's highly acclaimed concert grand piano, with all 88 keys of this exceptional instrument meticulously recorded, analysed and faithfully reproduced using advanced Harmonic Imaging technology.
Recording each key individually in this way, preserves the rich harmonic character of the EX concert grand piano, and guarantees that the sound heard when playing any one of the ES110's weighted keys is a faithful representation of the original acoustic source.
Harmonic Imaging Technology
When playing a fine piano, the amount of pressure applied to the keyboard affects not only the volume of the sound produced, but also the unique tonal character of each note. Therefore, in order to construct a realistic acoustic portrait of the EX concert grand piano, not only is each key recorded individually, but also at various different volumes, ranging from gentle pianissimo to thunderous fortissimo.
The ES110 offers a highly detailed acoustic portrait, employing Kawai's proprietary Harmonic Imaging sampling technology to ensure smooth tonal transitions across the keyboard and throughout the entire dynamic range.
Reverbs, Noises, & Resonances
Additional reverberation effects that simulate the acoustic environment of a recital room, live stage, or concert hall are also applied, with settings to adjust voicing, sympathetic resonance, and other acoustic characteristics.
The result is a rich, vibrant piano tone that delivers breathtaking realism and authenticity.
The Variety Of A Digital Piano: Convenience & Flexibility
The impressive ES110 offers a variety of features to complement its authentic keyboard touch and rich grand piano sounds. The built-in lesson function, with adjustable metronome and song recorder, is an invaluable tool for aspiring pianists, while additional instrument voices, Dual and Split playing modes, and 100 drum rhythms allow players of all levels to indulge their creative spirit.
Live players will appreciate dedicated Line Out jacks for sound reinforcement, while integrated Bluetooth® and standard MIDI ports ensure flexibility when connecting with smart devices, computers, and other instruments.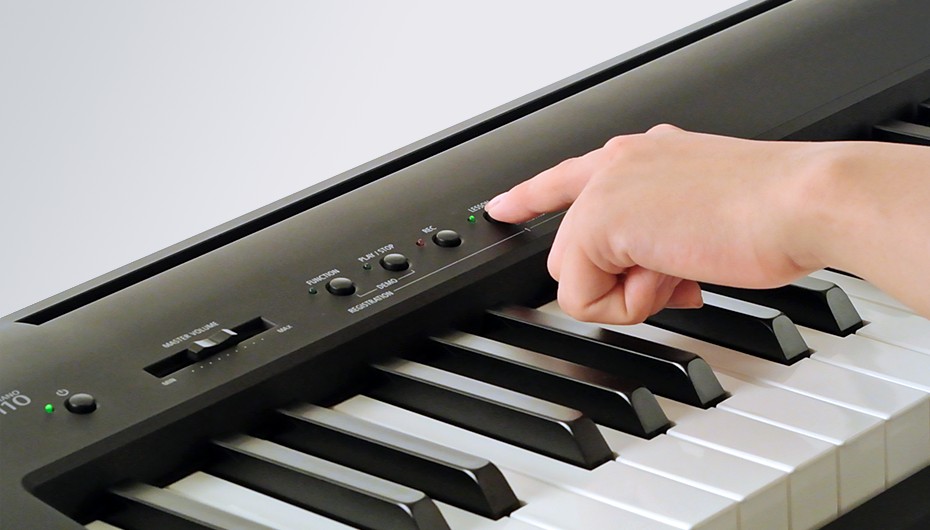 Built-In Lesson Function
The ES110's convenient lesson function allows aspiring pianists to study classical piano using a collection of Burgmüller etudes, or learn time-honoured standards from the popular Alfred Basic Piano course books.
The left and right hand parts of each etude or song can be practised separately, with the built-in metronome and adjustable tempo controls helping to improve timing and rhythm.
* Notated scores and Alfred lesson books sold separately.
Variety Of Sound
Supplementing its realistic acoustic piano voices, the ES110 also offers a selection of additional instrument sounds, including electric pianos, organs, strings, acoustic and electric bass, and vibraphone.
The Dual and Split playing modes also allow two different voices, such as an acoustic piano and a string ensemble, to be played together for a more complex sound that inspires even greater musical creativity.
Line Out Jacks
Weighing just 12 kilos, the ES110 is ideal for gigging musicians looking for a portable instrument with authentic touch and high quality sounds.
Dedicated stereo Line Out jacks allow direct connection to mixers and PAs, with the ability to also leave the instrument's built-in speakers enabled for use as local monitors.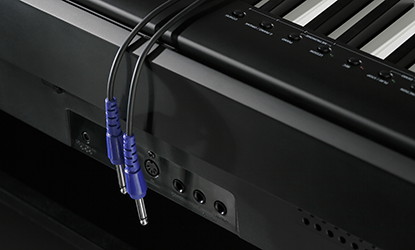 Integrated Bluetooth® Connectivity
In addition to standard MIDI ports, the ES110 also boasts integrated Bluetooth MIDI, allowing the instrument to communicate with supported smart devices wirelessly. Once paired with a phone or tablet, ES110 owners can easily expand the piano's functions using a wide range of music apps – without the need for any extra cables or adaptors.
High Quality Damper Pedal
While other portable digital pianos in its price range may provide a simple on/off switch pedal, the ES110 actually includes a high-quality damper pedal that allows progressive half-pedalling as standard.
This Kawai produced F-10H unit features a solid construction with non-slip rubber base, a realistically weighted full-length metal pedal, and utilises high resolution optical sensing for reliable and accurate velocity detection.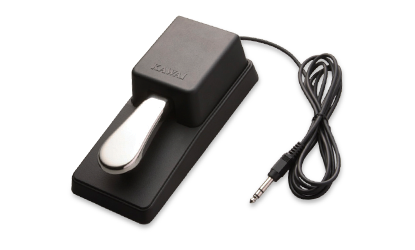 HML-1 Designer Stand Available Separately
The HML-1 designer stand transforms the portable ES110 into ultra-compact, stylish piano replacement.
Crafted from wood, this sturdy platform is the ideal solution for ES110 owners seeking a modern, attractive alternative to uninviting keyboard stands. The ES110 secures to the HML-1 stand using four manageable thumb screws, allowing the instrument to be easily decoupled and taken on the road.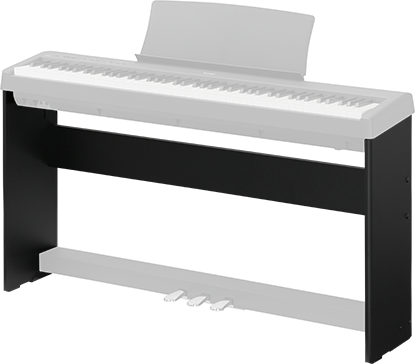 * Available in matching Stylish Black or Elegant White finishes.
* Dimensions: 130 (W)  x  28 (D)  x  68 (H) cm
F-350 Triple Pedal Bar Available Separately
The F-350 triple pedal bar attaches to the HML-1 stand to deliver a fully-fledged grand piano playing experience in an ultra-compact package.
As with Kawai's large console instruments, the F-350 triple pedal bar replicates the damper, soft, and sostenuto functionality of a Kawai EX Concert grand piano, further enhancing the ES110's acoustic piano-like authenticity.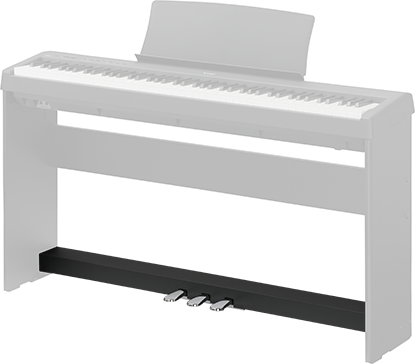 * Available in matching Stylish Black or Elegant White finishes.
* HML-1 designer stand also required.
* Dimensions: 127 (W)  x  20 (D)  x  7 (H) cm
Generous Part Exchanges Available
Get in touch with us if you have an existing digital or acoustic piano that you'd like to part exchange with us, and we'd be happy to let you know how much it could be worth.