Detailed Description
For over 85 years, Kawai has been the architect of the modern piano, boldly pioneering the use of state-of-the art materials and ideas to advance the piano art form. Building upon nine decades of experience and tradition, our celebrated technology delivers extraordinary touch and tone that is respected worldwide for its remarkable stability. That is the Kawai difference that you will hear and feel for years to come.
Introducing… Kawai Augmented Reality
To assist you in your piano purchasing journey, Kawai has developed a scale GL-10 model in Augmented Reality, allowing you to simply position and view the stunning GL-10 in your own room, studio or classroom through your own smartphone or tablet (iOS and Android).
By using this tool, you get to see the space required and how this beautiful instrument will compliment your room. You might be surprised by how comfortably it will fit.
How to use it:
1. Scan the QR code above on your mobile/tablet.
2. Point your device in your room, and position the piano into desired position.
You can move, reposition and resize the piano by touching the screen on your
smart device. The piano will remain in situ allowing you to walk around the
model viewing details of the instrument from any angle through the screen.
The Millennium III Action
The Millennium III Action features components made of ABS-Carbon, a composite material created by the infusion of carbon fiber into our renowned ABS Styran. ABS-Carbon is incredibly sturdy and rigid, which allows the creation of action parts that are lighter without sacrificing strength. The result is a stronger, faster action that offers more power, better control and greater stability than conventional all-wood actions.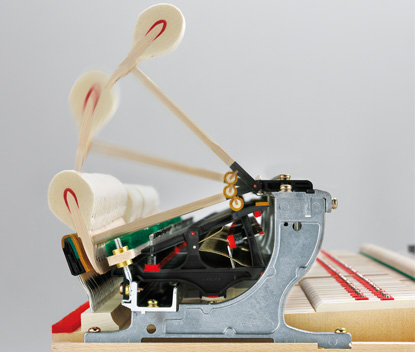 Longer Keys
Longer keys make playing easier and provide a more even response from the front to the back of the playing surface. A taller profile and concert-length key buttons make them more rigid to provide exceptional energy transfer and optimum power.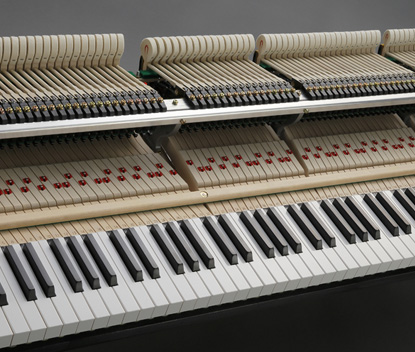 Rigid Foundation Of Key Stroke
The hammer rail is the "spine" of the piano's action. GL series hammer rails are made of durable extruded aluminum with our exclusive Dual-Beam design for strength and stability. Both the hammer rail and the wippen rail are permanently locked in place to preserve the exacting tolerances of the action design and ensure consistent touch over the life of the piano. The entire surface of the hammer rail is finely serrated to hold each hammer flange securely in place for optimum hammer alignment, while the hammer flanges secured to the surface are made by ABS-Carbon that enables the action screws to remain tight without shrinking and swelling. All these meticulous design features comprise the GL Series' rigid foundation, ensuring a precise key stroke over time.
The use of ABS-Carbon makes the action parts tremendously strong and consistent. ABS-Carbon is many times stronger than wood and is virtually impervious to shrinking and swelling due to humidity. This extraordinary combination of strength and stability allows ABS-Carbon action parts to transfer energy to the hammers with unparalleled efficiency, power, precision and nuance for a superb playing experience.
Tone
Kawai grand pianos are renowned for their expressive tone and expansive dynamic range that allow pianists to communicate with ease and passion.
Agraffes
Agraffes insure accuracy in string alignment, spacing and angles to produce greater uniformity of tone and consistent "speaking length" for each note.
The Power Of Pianissimo
One of the most coveted attributes of a fine piano is dynamic range— the ability to play not only thundering fortissimos, but also the most delicate and sensitive pianissimos. The technological superiority of the Millennium III Action is most evident in its extraordinary ability to produce the perfect pianissimo. It is ironic that GL series technology speaks loudest when it whispers.
Tapered Soundboard Made Of Solid Spruce
The soundboard is the heart of a piano. Its purpose is to transform the vibrations of the piano's strings into a rich, resounding tone. Kawai uses only straightgrained, quarter-sawn solid spruce for GL series soundboards. Each one is strategically tapered to provide the proper degree of resonant movement in each region. Only soundboards that meet or exceed our demanding resonance standards are selected for use in the GL series grand pianos.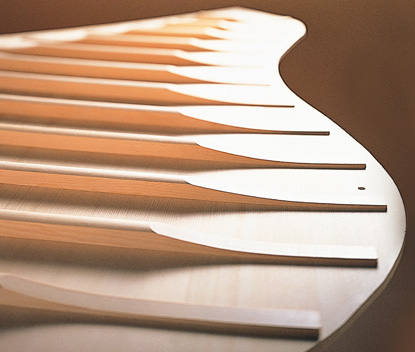 Hardwood Bridge
Bridges transfer the vibrations of the strings to the soundboard. GL Series bridges are made of solid maple or beech and are carefully set and matched to the iron plate for correct string pressure and optimal tonal transfer.
Strenght
Strength allows a piano to perform with integrity and authority over time. GL Series pianos are built with remarkable strength to thrive amid the rigors of long-term use.
SOLID (Stretcher Over-Lap Integrated Design)
SOLID construction creates an exceptionally rigid foundation to support string tension. First, the pinblock is fitted to the plate. Then, the pinblock and over-lapping stretcher bar are integrated into a single structure and solidly anchored to the rim. The extraordinary thickness of the stretcher bar exemplifies the structural integrity of this sturdy framework designed to ensure stable tuning and powerful tone.
V-Pro Plate
The plate is the acoustically-neutral iron superstructure of the piano over which the strings are tensioned. All GL Series plates are molded using the Vacuum Mold Process (V-Pro) with "Crossbone Design." The result is a plate that is strong, stable and beautiful.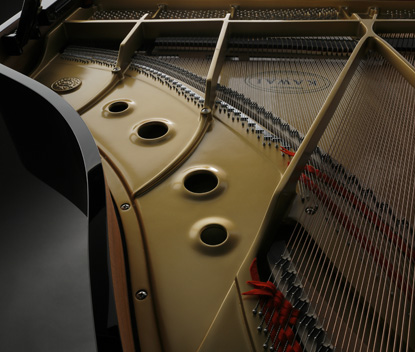 Pinblocks And Tuning Pins
The Multi-Grip pinblock on all GL series grand pianos is fully laminated with a minimum of eleven cross-banded layers of North American hard maple for maximum strength and balanced torque. Tuning pins are made from the finest carbon steel, machinethreaded for maximum continuous torque and nickel plated to enhance beauty and provide long-term protection.
Steel-Reinforced, Anti-Warp Keyslip
A piano's keyslip is the long, horizontal piece of wood that covers the front faces of the keys. Because it is made of wood, a keyslip can warp or bend with changes in humidity, causing keys to stick. To avoid this problem, the GL series keyslip is reinforced with a heavy-gauge steel liner that prevents warping or bending in any direction. Keys move freely with virtually no possibility of rubbing or sticking against the inside of the keyslip.
Steel-Reinforced Keybed
The piano's keybed must be strong and stable to support the weight of the entire action assembly over time. The GL series keybed is made of extremely sturdy, laminated hardwoods and is reinforced with a steel support beam that add strength and increase rigidity in the keybed to prevent energy loss.
"Soft Fall" Fallboard
Our ultra-slow, "Soft Fall" fallboard closing system with dual-damping mechanism protects hands and the piano's finish from the harm that a jarring close might cause.
Generous Part Exchanges Available
Get in touch with us if you have an existing digital or acoustic piano that you'd like to part exchange with us, and we'd be happy to let you know how much it could be worth.