Take a look at the Kawai website and you'll find it littered with provocative statements.
'Some companies follow trends. Others create them. Some companies fear change. Others embrace it. Some companies live in the past. Others become the future'.
Bold declarations, but it's this pioneering attitude that sets Kawai apart from many other piano manufacturers. And why, nearly 100 years on, they continue to be a market leader.
If you're searching for an instrument offering the perfect harmony between history and innovation, a Kawai piano could be just what you're looking for.
Here we take a closer look at what this iconic brand is all about.
The history of Kawai
Born in Japan in 1886, it became clear from an early age that Koichi Kawai had an extraordinary affinity for design and innovation. Taken on as a young apprentice by a would-be piano builder, his extraordinary skill soon became apparent, and he became the first person in Japan to build a complete piano action.
Challenging times for the piano industry followed, leading Koichi to decide it was time to take control and branch out on his own. So, in 1927, armed with ambition, passion, and seven like-minded colleagues, the Kawai Musical Instrument Research Laboratory was formed.
Despite facing many difficulties in its early years, the company developed and grew. By 1955, it was producing 1500 pianos a year and employing more than 500 people.
A new era
Kochi sadly passed away in 1955, aged 70, but the success story didn't stop there. He left behind a legacy to continue in the quest for perfection – and this time, it was the turn of 33-year-old Shigeru Kawi to lead the company into its next chapter of modern manufacturing.
Shigeru believed a prosperous future lay in combining handcraftsmanship with technology. And he was right. His foresight led to the company's first modern production line, which enabled them to meet the growing demands of the piano world – without ever compromising on quality or workmanship.
This forward-thinking attitude is the hallmark of the brand, and Kawai has single-handedly brought about many of the industry's most exciting and beneficial innovations. This includes the use of aluminium action rails, slow-close fallboards, and the use of carbon fibre in a piano…and that's just scratching the surface!
Unsurprisingly, this willingness to embrace technology led to Kawai expanding the capabilities of the digital piano. Creating the industry's first digital pianos with wooden keys, the first action design to realistically mimic an acoustic piano action.
The pursuit of excellence is constant. Never content to settle, Kawai continues to push boundaries, which is why they remain a force to be reckoned with in the piano world.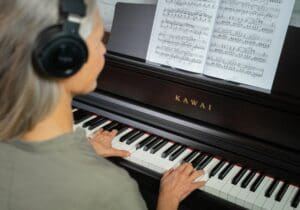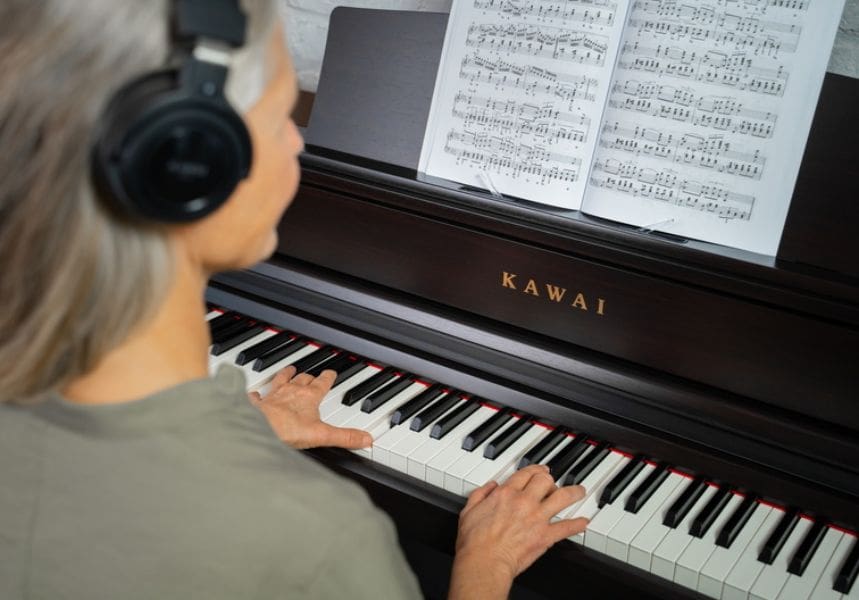 Types of Kawai pianos
With innovation and development at its core, the Kawai brand leads rather than follows, which is why they are successful with all types of pianos.
Their vast collection includes:
·         Digital pianos
If you want the convenience and flexibility afforded by a digital piano, then you'll be hard pushed to find better than a digital piano from Kawai.
Collections range from the practical and affordable KDP series, which makes a great starter instrument, right through to the DG series – which perfectly blends digital technologies with the compact aesthetics of a grand.
·         Grand pianos
Few things can be grander than the Kawai grand piano, built on decades of experience and an openness to progression. Explore the Aures Hybrid Grand for the best of both worlds – grand acoustics paired with muting features and a state-of-the-art speaker system.
·         Upright pianos
Kawai quality at its best. Uprights from Kawai continue to honour tradition while harnessing new ideas and advances. Take a look at the hugely popular K series.
·         Hybrid pianos
Offering the most exquisite combination of digital and acoustic piano capabilities, the Kawai hybrid embodies everything this brand stands for – excellence and innovation.  Plug in your headphones and you're away.
How much do Kawai pianos cost?
With such a broad collection of pianos comes a variable price tag.
As with all things, the exact price will vary based on the model you go for. As a guide, you can expect to pay around:
£1,000 – £4,000 for a basic Kawai digital piano
£5,500 – £8,500 for a Kawai hybrid
Upright Kawai piano start from £3,000
Grand Kawai pianos start at £8,000
Is it worth buying a pre-owned Kawai piano?
If you're looking for a piano of Kawai quality, but are keen to keep costs to a minimum, taking the pre-owned route is certainly worth considering – and could result in a bargain.
Buy a second-hand Kawai piano and it's possible to take up to 50% off the price you would pay for the equivalent model brand-new. Purchase a used piano from us, and you can be confident your Kawai has undergone a detailed 113 point check and will offer you years of enjoyment.
We also issue a five-year guarantee with all refurbished acoustic Kawai pianos.
Buy a Kawai piano
At Richard Lawson Pianos, we are delighted to be able to offer an extensive collection of both new and pre-owned Kawai pianos for sale.
Take a look at some of the models we have available now, and if you'd like to find out more about the iconic brand, and whether a Kawai piano could be right for you, call the team on 01923 720 974 or book an appointment to visit our showroom.