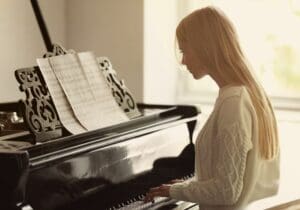 Used. Second-hand.
Not words likely to fill you with much enthusiasm or excitement. But let a little clunky terminology put you off and you could be missing out.
A second-hand piano could be a way of getting your hands on a premium instrument at a fraction of the usual cost. Explore used pianos for sale and you could be opening the door to more choice and a whole new world of possibility.
Second-hand just got more interesting.
6 'must knows' about used pianos
1.    You could save a fortune
The biggest advantage to buying a used piano has to be the price.
It doesn't take a genius to guess there'll be a saving involved if you don't buy new, but few people realise just how big this saving can be.
On average, you can expect to pay up to 50% less for a second-hand piano compared to a brand-new model. That's a whopping saving, which could be used to pay for lessons, piano accessories, or even a holiday!
2.    More choice
Pretty sure you want an acoustic piano, but tempted by the technical advantages of a digital model? Love the idea of a grand but looking for something more portable?
Thanks to the reduced cost of buying a used piano, you have more freedom to experiment…or even to buy two! Perhaps a used grand for the living room and the compact convenience of a digital piano for elsewhere.
Without altering your budget, switch your search focus to include used rather than just new pianos and you'll discover a wider range of pianos falling into your price bracket – helping to make sure you find the right fit.
3.    A used piano is perfect for a new player (or someone starting back)
If you're just starting out, you don't yet know how you'll take to things – or what type of piano will best suit your playing and lifestyle needs.
If you've played before but stopped, could the same happen again? Whilst we can't champion piano playing enough, it's not for everyone. No matter how committed you are now, if your enthusiasm waned last time, might it happen again?
With a second-hand piano, you take some of the sting out of starting up (or returning to) the skill. Minimising the financial burden if it turns out not to be for you.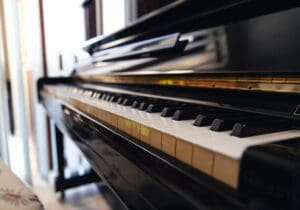 4.    Used pianos still come with a guarantee
Worried you'll buy a second-hand piano and things will start going wrong as soon as you get it home? Relax.
Buy from a reputable piano dealer (like us!) and you'll likely enjoy the same guarantee as buying new.
At Richard Lawson Pianos, whether you buy a new or used piano we'll offer you the same 5-year guarantee as well as an impressive 30-day trial period, so you can buy with 100% confidence.
5.    Used doesn't mean old!
A common misconception when it comes to used pianos is that they must be old. In many cases, this is far from the truth.
Circumstances alter, needs evolve, and ideas change, which leaves virtually brand new pianos in need of a new home – and gives you the opportunity to bag a bargain.
6.    A second-hand piano holds its value better
Not only do you pay less for a used piano in the first place, but should you change your mind or decide you're ready to move on to a more advanced model, it's good to know that you won't be hit too hard in the pocket.
Pre-owned pianos hold their value better than new ones, leaving you in a stronger position should you decide to sell.
Find second-hand pianos for sale
With a great collection of new and used pianos for sale, why not make an appointment to visit our showroom in Rickmansworth?
Here you can see for yourself just how special our collection of second-hand pianos is. Alternatively, take a look at the collection online or get in touch to speak with a member of the team.
Whatever it is your looking for from your piano, we're here to help you find it.