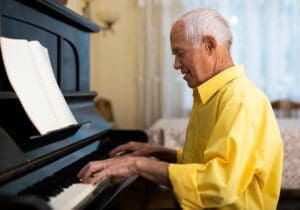 If you can't teach an old dog new tricks, surely there comes an age when it's just too late to start learning the piano?
Absolutely not!
One of the things we love most about piano playing, here at Richard Lawson Pianos, is the fact it's a skill that can be developed at any age.
Old or young, the piano doesn't discriminate. We'd even argue that the older you get, the better it gets!
Here's why…
Benefits of learning the piano later in life
More time to commit
If you're retired or cutting back on your work life, you're in the ideal position to learn. No gruelling 9 to 5, juggling the kids' activities, or being forced to put playing at the bottom of the 'to-do' list.
With fewer ties and commitments placed on your time, you can relax into playing. Squeezing time in to practice before your next lesson need never feel pressurised or stressful.
Opportunities to meet new people
Learning to play the piano may help you to discover a new musical passion. Perhaps jazz will be your thing, or you'll develop an appreciation for classical music. Either way, as we mature, our social circles often dwindle – but learning the piano and discovering new musical interests could open the door to opportunities to meet different people and forge new friendships.
Improve memory
There's no point avoiding the issue – as we age, our ability to remember starts to diminish. In fact, worrying about computing and retaining new information is one of the biggest reasons people are put off learning the piano as an adult.
In reality, learning the play the piano in later life can actually help with memory! It's a proven fact that piano playing improves cognitive function, with multiple studies highlighting its sharpening effect on both intellect and memory.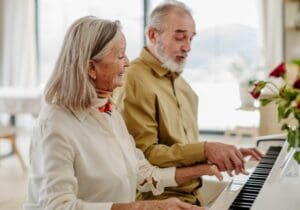 Discover new joy
Feeling down, lethargic, or lacking any zest for life can be a wearying symptom of ageing. Perhaps you're struggling with the lack of routine once experienced with a regular job, or grieving a loved one who has passed away.
Whatever your reason, learning to play the piano can help to bridge the void, combining the power of music with the focus of learning a new skill to provide escapism and give purpose to each day.
Enhance hand mobility
For those troubled with aching joints or trying to keep arthritis at bay, playing the piano can help.
The playing motion gently exercises hands, wrists, arms, and even shoulders, helping to keep muscles flexible and maintain fine motor skills and dexterity.
Learn in comfort
Whilst some pastimes require physical fitness or exertion, the piano demands none of this. Better yet, the optimum position for playing is sitting down!
Don't let age stand in your way
When it comes to playing the piano, it's never too late to learn – so why wait a moment longer? Embark on a new and exciting musical adventure and shop our collection of new and used pianos now.
One thing that definitely comes with age is experience – and we've been in the piano trade for four decades! So if you have any questions about buying a piano, or would welcome some friendly advice, please don't hesitate to get in touch. You can also book an appointment to visit our impressive showroom, where a member of the team will be on hand to show you around and talk through the different pianos available.
All pianos come with a 5-year guarantee and no-quibble 30 days return policy. If it turns out learning the piano later in life isn't for you, then you can return your piano to us hassle-free – but we're pretty confident you'll find this is just the beginning…