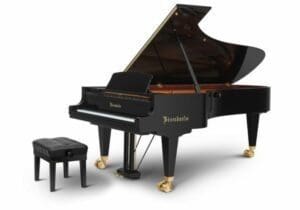 Good things are worth waiting for, and that's certainly true of a Bösendorfer piano.
Some six years in the making, up to 587 hours of master craftsmanship, dedication and musical passion go into creating a Bösendorfer.
The result?
An instrument that is as beautiful as it is inspiring.
Want to know more about this iconic brand? Let's take a closer look at what makes a Bösendorfer piano so incredibly special.
How it all started
Bösendorfer is one of the industry's oldest piano companies and Austria's only remaining piano manufacturer.
Ignaz Bösendorfer was born in 1794, and at the young age of 19 started an apprenticeship with the then-acclaimed piano maker, Joseph Brodmann.
Ignaz's gift for piano craftsmanship soon became evident, and by 1815 he was already receiving rewards for this work from the Viennese Academy of Art. In 1828, he took over the business from Joseph and became a member of the prestigious Austrian Instrument Manufacturers' Guild in Vienna – making this the recognised founding date of Bösendorfer pianos.
Thanks to endorsements from composer and artist Franz Liszt – who chose a Bösendorfer grand for an acclaimed concert performance in Vienna – the brand rose to fame overnight. And the rest, as they say, is history.
Today many of the greats continue to choose a Bösendorfer piano, including the likes of Sir András Schiff, Stephen Hough and Tori Amos – who even takes her Bösendorfer on tour!
The Bösendorfer piano collection
Bösendorfer's focus is very much on the more premium end of the market. Their collection of instruments is made up of grand pianos, concert grands, and grand uprights.
The current range includes:
3 Bösendorfer concert grands – 230VC (Semi-concert Grand), 280VC and the 290 Imperial
How much does a Bösendorfer cost?
As a more exclusive piano manufacturer, producing just 300 pianos a year, the price tag of a Bösendorfer piano reflects this.
The smallest Bösendorfer grand upright piano starts in the region of £38,500 and this rises quickly as you move through the collection – the Bösendorfer 214VC, for instance, comes in at around £116,500.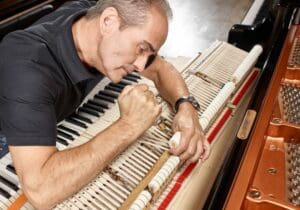 Why are Bösendorfer pianos so expensive?
There's no escaping the fact that Bösendorfer piano prices are amongst the highest on the market – but rest assured you're not just paying for the name.
Famed for a uniquely warm and colourful sound, Bösendorfer refuses to rush its manufacturing process. As highly skilled piano builders, they pay meticulous attention to every stage of the build, from taking time to fully prepare materials (the wood they use is naturally air-dried) to patiently waiting for the raw frames to rest for six months outside the factory (a process credited with ensuring the impressive string stability of a Bösendorfer).
Add this to the fact Bösendorfer is the only piano manufacturer to use a detachable and independent Capo d'Astro in the upper register, and it soon becomes easy to see how they demand such prices.
By dedicating so much time and precision to getting things right, Bösendorfer build an instrument that is not only beautiful to look at and a joy to play, but one that will last for many generations to come.
Are Bösendorfer pianos the same as Yamaha?
The easy answer to this is no. However, there seems to be much confusion around this point, so allow us to explain in more detail.
In 2008, Yamaha did acquire Bösendorfer, but the two companies remain distinct. Yamaha were keen to preserve the heritage of Bösendorfer and the latter still functions today as a fully independent company crafting premium pianos close to where it all originally started, in Vienna.
Find Bösendorfer pianos for sale
Here at Richard Lawson Pianos, we're proud to offer an exclusive selection of Bösendorfer's finest pianos.
Shop Bösendorfer pianos online now, or to experience the full beauty of these instruments first-hand, why not book an appointment to visit the showroom?
More than you want to spend? You can't take away from the quality of a Bösendorfer piano, but that doesn't mean there aren't plenty of other excellent options available at more pocket-friendly prices. Browse our full piano range or get in touch with the team and we'll do everything in our power to find you the perfect piano at the right price.