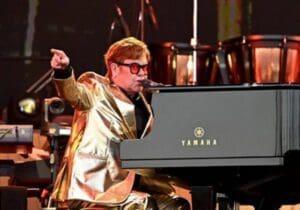 Hailed as one of the greatest headline acts ever to grace Glastonbury, on Sunday 25 June 2023, Sir Elton John took to the Pyramid stage at Worthy Farm for his final ever performance in the UK.
And he didn't disappoint.
Drawing the biggest crowds a Glasto headliner has ever seen, festival revellers and settee spectators alike were wowed, with listening and viewing figures smashing all previous records.
His appearance had sparked much speculation about who would join him on stage. But Elton swerved the obvious choice of high-profile stars, opting instead for just a handful of close friends and musicians he personally admires.
Those to make the grade included Rina Sawayama, Jacob Lusk, Stephen Sanchez and Killers frontman Brandon Flowers.
But there was one particularly special guest that stayed on stage with Elton throughout his full two-hour set – a Yamaha piano.
Yamaha pianos have long been a trusted companion of this musical legend. But at 76 years of age, and with now limited mobility, the instrument was by his side throughout – throwing piano playing into the limelight like never before.
Other popular artists and TV shows such as Channel 4's The Piano have done much to promote pianos over recent years, but Elton's Glastonbury set has brought piano playing to the masses on an unprecedented scale.
Which, if the spike in piano-related searches reported by Google Analytics is to be believed, has inspired a whole new generation of rocket men and women!
The 'Elton effect'
Glastonbury is a celebration of all things musical, uniting a myriad of musical genres, but this year felt particularly special for the piano.
Not only did Elton have his trusty Yamaha piano close at hand, it was integral to his set and the absolute star of his 10-minute finale which saw lengthy piano solos.
This phenomenal performance has highlighted piano playing to a huge audience. The result of which generated a 20% rise in Google searches for 'pianos for beginners'.
And it wasn't just Elton!
This year was seemingly the year of the piano with musical maestro, Jacob Collier, also taking to the stage, this time with a Steinway and Sons piano.
As a Grammy Award-winning multi-instrumentalist, he had the crowds in the palm of his hands as he led mass participation – with an impressively tuneful audience – directed by his piano playing.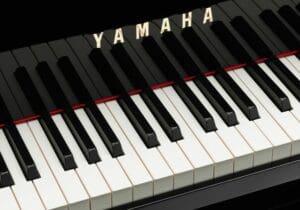 The secret underground piano bar
Whilst pianos may be enjoying particular attention this year, they have always played a big part in the festival.
The Underground Piano Bar is yet another Glastonbury 'legend'. Cloaked in mystery, it's an underground venue so secret some claim it doesn't exist – but it does!
Holding fewer than 50 people, this mythical bar changes its location every year to maintain its air of mystery. Never on any 'official' guides or maps, the piano bar is rebuilt in a secret spot every year and only the lucky few manage to find it.
A million miles from the mass performances at centre stage, its success still centres around the piano. Rumoured to be the favourite haunt of the main man himself, Michael Eavis, it's clear pianos are close to the heart of Glastonbury.
Are you the next Elton?
Has festival fever inspired you to give piano playing a go? Keen to try out a Yamaha piano and channel your inner Elton? Or just motivated to get playing and want to source a great starter piano?
Then let us help.
At Richard Lawson Pianos, we already think the piano is a legendary instrument in its own right and we're delighted that Elton's performance has cemented this and inspired people of all ages to have a go.
We stock a great range of Yamaha pianos, Steinway, and many more renowned piano brands. With both uprights, grands, and compact digital models available – and always at great prices.
Why not make an appointment to visit our showroom (we're a lot easier to find than the Underground Piano Bar!) – and a member of the team will show you around? You can try out  different makes and models, ask any questions, and we'll help you to find the perfect pianos for your playing needs and budget.
Start your own musical journey today, and who knows where it may lead – next stop Glastonbury?!