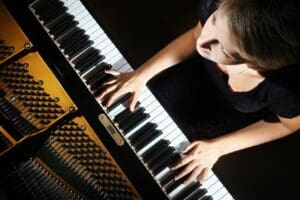 You might be very clear about what you want from a piano, or you might still be weighing up all your options. New or used, digital or acoustic, upright or grand, white or walnut, it's never-ending. But while you're busy considering all the options, two important areas frequently get overlooked – touch and tone.
Forget these and it could be a costly mistake, affecting not only your performance but also your playing pleasure.
Want to understand more about what we mean by touch and tone and why they're so crucial? Then allow our experts to explain.
What is the 'tone' of a piano?
When the tonal quality of a piano is referred to, what is basically meant is the colour of the sound.
This might seem simple (surely one piano sounds much the same as the next?), but in actual fact tone can vary greatly.
From bright and brilliant to mellow and warm, the tone is arguably one of the most important areas to pay attention to when purchasing a piano.
What is the 'touch' of a piano?
Playing the piano is as much about how it feels as it is about how it sounds.
A piano needs to respond to the nuances of expression within your playing, and how responsive it is to touch is determined by the quality and set-up of the instrument's action.
Things to be aware of
It's all about personal perfection
Tone: there is no 'perfect' tonal quality, only what works for you. Different players will have different preferences, and this is largely influenced by the type of music you prefer playing.
Touch: as with sound, what you want in terms of touch is unique to you. Which is why we always highly recommend trying out pianos before you buy. There's no substitute for sitting at the keys to play for yourself, hearing and feeling how the piano responds under your control.
Touch and tone affect digital pianos too!
Tone: most people assume that tone isn't a factor to consider with digital pianos, but this is a common mistake.
With a digital instrument, the sound quality is determined by amplification power and the sample being used. The power and quality of the inbuilt speakers are worth checking out too, as the more powerful the speakers are, the more depth and character the playing will have.
Touch: a digital piano is unlikely to be as responsive as an acoustic model but that doesn't mean one digital piano is the same as the next – it's not!
High-end digital pianos typically come with longer keysticks and more sensors – this helps to distinguish nuances of touch more accurately.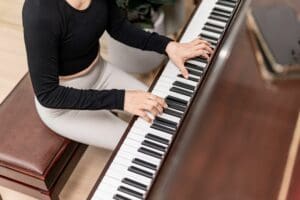 Size matters
Tone: the more established you are as a player the greater the need for wider tonal range and colour, so it's important to be clear on how the size of your piano can impact this.
With upright pianos, the taller models will have longer strings and a larger soundboard – this allows sound to resonate more fully, so the bass will be deeper, and the treble more crisp and clear.
The same goes for grand pianos – the longer the model the larger the tonal palette will be, and hence the instrument will have a much wider expressive range.
Touch: as with sound, the size of a piano also influences the effectiveness of its action. For example, larger uprights tend to incorporate longer keysticks which allows for more control.
For the same reason, grand pianos generally have a far quicker and more responsive action. And thanks to horizontal keysticks, players are afforded far more control over hammer acceleration.
It also goes without saying that larger grands have much longer keysticks compared to uprights so, if you have the space, larger grand pianos will tend to offer the best and most responsive actions.
Age has an impact
Tone: it's usually fair to assume that the older the piano is, the more it has been played, which will affect the tonal quality.
That said, the quality of the parts and craftsmanship also play a big part, and pianos that have been refurbished will have been 'voiced', rebalancing the tonal quality.
Touch: older pianos tend to have lighter actions (this is because the more a piano is played the looser actions become).
If you're buying a pre-owned piano look out for one that isn't very old, or that has only been used lightly. Alternatively, opt for a professionally refurbished model as the action will have been completely regulated. 
Need a hand?
Remember to consider the two T's of touch and tone and you'll be well on the road to a successful piano purchase.
If you'd like further guidance, why not take a look at our Buyer's Guide (available to download from the footer of our website) or get in touch directly with the team here at Richard Lawson Pianos. We're always on hand and happy to offer professional insight and advice on finding the right model for your playing needs and budget.
Don't forget, there's no substitute for sitting down and playing a piano for yourself. So be sure to book an appointment to visit our impressive showroom. Here you can try out any of the pianos from our extensive range to get a real sense of the sound and feel offered by different makes and models.
Book an appointment online now or call the team on 01923 720 974.