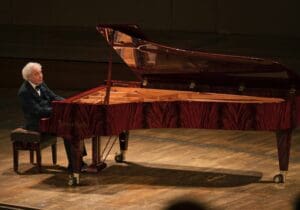 When it comes to buying a piano, form must follow function – after all, there's not much point in a great-looking piano with poor sound quality.
Yet, for many people, how their piano looks is still important.
And rightly so.
Whether it's a statement piece in a hotel reception, a key part of an orchestral lineup, or the focus in a family lounge – appearances matter. With the power to impact not only your love of the instrument, but your enjoyment of playing too.
Want to understand more about the different options available? Here we take a look at some of the most popular piano finishes on the market.
What types of piano finishes are there?
High gloss finish
High gloss is a piano favourite. This super-shiny finish gives the surface of the piano an almost mirror-like quality, a look which is often favoured by brands such as Yamaha and Kawai.
Some of the most iconic high-polished pianos are black and white – take John Lennon's legendary white Steinway, for example – but there are plenty of other options available.
High gloss can be used to enhance natural wood shades or even bolder colour choices. High-polished pink, anyone?
Satin finish
Offering a slightly less 'polished' look with a 35-40% sheen, satin finishes are created by carefully rubbing down a high gloss surface to ensure they still reflect light, but not images – so if you want to be able to see your reflection as you play, this isn't the look for you!
Open pore finish
Prefer a more natural and rustic feel? Then an open pore piano finish could be right for you.
This matte look is created by allowing the grain of the wood to remain visible on the surface. So, whilst the exterior is protected by a thin lacquer, the natural grain and texture of the wood can still be enjoyed.
Which finish is best?
When it comes to piano finishes, there is no right or wrong – only what works for you and the space where you intend to position your instrument.
Even if you've decided you want the classic look of wood, the exact finish you choose can make a big difference to the overall aesthetic created.
Popular wooden finishes include:
Cherry and mahogany
These woods offer a very similar look. Both have a rich red undertone which promotes a more traditional feel – great for period properties or if you want to create a retro vibe.
Walnut
Another dark wood, Walnut is a definite 'brown' and a piano with this finish will add distinction and class to any room.
Invariably, Walnut finishes have a distinctive grain – almost marble-like in appearance. This variation is great for adding interest and depth – it's also good for hiding any marks or damage.
Oak
Oak is a popular wooden finish and, as a hardwood, it also provides excellent durability.
Offering the natural warmth and character of wood without being too dark or overbearing, it's a finish that will easily match or complement other wooden furnishings.
Beech
Probably the lightest of the wood options, beech offers a much paler tone. If you're keen on a wooden finish but you're conscious of not overpowering the space available, then this could be the ideal option.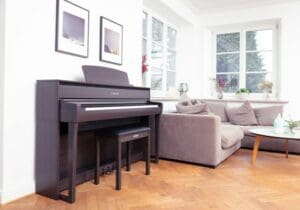 Alternatives to wooden finishes:
White
White is a great choice for the modern home. Whether it's high-gloss or matte, white will naturally reflect light helping to make the surrounding room feel bright and airy.
It's also a shade that will blend into rather than dominate space, and that will work well with other shades.
So, if you like to change the colour scheme of your home on a regular basis, or if space is tight and you don't want your piano to dwarf your room, white makes an excellent choice. It's also a good option for hiding the dust!
Black
A colour that never goes out of fashion, a black piano is arguably one of the most popular piano finishes on the market.
For a performance piano, black is the go-to. In high gloss, they reflect stage lighting and help to make a powerful statement on stage.
One thing to be wary of though, is that whilst undeniably stunning, high gloss black surfaces show dust and fingerprints more easily than other options – so keep this in mind when making your decision.
An alternative could be a satin ebony piano. These provide a contemporary black sheen without the all-out gloss. A look that works particularly well with modern digital pianos and could be a more practical option if you like the idea of a black piano but not the thought of endless polishing.
Bespoke Bösendorfer
Would you love a piano that's totally unique to you?
Well, it is possible!
With just 300 instruments produced each year, Bösendorfer can offer an unparalleled level of customisation, allowing customers to have complete control over the final look of their piano.
Personalise the veneer, pick your colour, and even request a special design or emblem to be engraved into the bodywork – anything is possible. This personal touch, alongside the premium quality and service, is the hallmark of the Bösendorfer brand.
To find out more about creating your own special Bösendorfer, get in touch.
Feeling inspired?
Starting to get more of a feel for the different piano finishes out there? Want a hand finding a piano that doesn't compromise on sound or style?
Then contact our team today.
At Richard Lawson Pianos, we have an extensive collection of pianos from the world's leading manufacturers. With a vast choice of makes and models and a range of finishes in stock, we can help you find your perfect match.
Why not take the opportunity to visit our showroom, where you can see the different types of finishes in the flesh to get a feel for your preferred look?