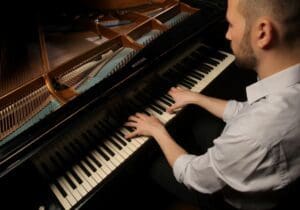 Buy cheap, buy twice.
We've all heard the saying, and whilst it's true that 'bargain deals' and 'unbelievable offers' often turn out to be too good to be true, there are still bargains to be had – including buying a used piano.
Intrigued? Here the team from Richard Lawson Pianos explain how purchasing a used piano can not only represent significant savings, but could also turn out to be the best money you ever spent!
How much could you save?
Understandably, the biggest question on everyone's lips when it comes to buying a used piano is how much could you save?
The temptation to buy new is strong, making the size of the discount offered the key incentive.
So, let's get down to business. How much money could you save buying a used piano?
On average, you can expect a used piano to cost around 40-60% less than the equivalent new model (depending on its age). When you consider that an upright acoustic piano can cost anything from £2,500 to £160,000, it's a saving not to be sniffed at.
Benefits of buying used
Aside from the cost benefits, there are many other pluses to buying second-hand – perhaps most notably the potential to upgrade more frequently.
Playing needs can develop quickly, and progressing to a piano with a greater range and increased musical capabilities is ideal – but impractical for many budgets. Yet with the substantial savings available if you choose to buy used, and the fact that they hold their value better, the possibility becomes much more tangible.
For more on the benefits of pre-owned pianos, check out our blog '6 things you need to know about second-hand pianos'.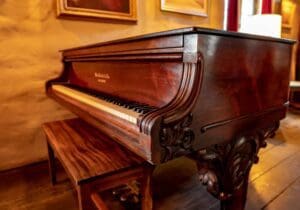 Can you buy digital pianos second-hand?
Fancy a digital piano rather than an acoustic? Wondering how they fare second-hand? The situation is much the same, with a typical used digital piano selling for around half the price of a new model.
What you need to be aware of with digital pianos, though, is that any potential issues can be harder to spot.
With a traditional acoustic piano, you can lift the lid, examine the strings, assess the soundboard – whilst you may not be a professional, nothing is hidden, and the overall condition can be easily gauged.
Digital pianos are trickier, making spotting potential problems much harder – which is why it's always worth sticking to buying from a respectable dealer. That way, you can be confident all the necessary checks have been carried out for you, and you'll have comeback if anything does go wrong.
A further point to consider with used digital pianos is that they age much faster than acoustic models. Whilst the fundamentals of a traditional piano remain largely unchanged, digital technology moves at a phenomenal pace. This means the capabilities, connections, and speed of digital pianos become outdated quickly and could be considerably different from those of a new model.
What do you get for your money?
Do you mean aside from a bargain and a great instrument?
We can't speak for all dealers, but when you buy from Richard Lawson Pianos, you can expect to enjoy the same high-quality service regardless of whether you're shopping for a new or used piano.
With any purchase from us, you can buy with complete confidence.
All our pianos undergo a thorough check, are fully refurbished, and are tuned to perfection by expert technicians.
You'll even receive the same impressive 5-year guarantee, and if that's not enough, you get our standard 30-day trial period, too. So, if you get the piano home and decide it's not quite the right fit for your needs, we'll offer you a full refund – no questions asked.
Ready to invest?
If you're keen to find out more about the great deals pre-loved pianos offer, why not get in touch?
Shop our collection of used pianos for sale online now or make an appointment to visit our showroom – where we're confident the only way you'll be able to spot the new from the used is by their price tag!
Same great instruments, same great service, even better price. What's not to love?