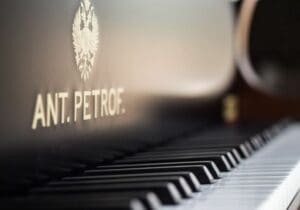 There's a lot to be said for 'keeping it in the family', and the success of Petrof certainly supports this idea.
From building the first piano in his father's workshop in the heart of the Czech Republic back in 1864, the legacy of Antonin Petrof has come a long way. Now some 630,000 instruments – and 6 generations – later, the Petrof name is still synonymous with quality and exports to 65 countries across the globe.
While production processes may have changed, the values haven't. Petrof pianos stand firm in their dedication to excellent craftsmanship and commitment to delivering the exquisite tone and stunning good looks expected of their instruments.
If you're searching for a piano that honours musical tradition, whilst simultaneously striving to push boundaries and evolve, then a Petrof piano could be for you.
What's special about a Petrof piano?
If 155 years of trading isn't enough to convince you that Petrof is a name to invest in, then how about the fact that up to 80% of a Petrof piano is crafted by hand?
In fact, so accomplished is Petrof's craftmanship that much of their piano portfolio carries a patent. So if you want Petrof quality – you need to buy a Petrof piano!
Unique to a Petrof piano is the sound, and their pianos are sought after for their characteristically soft, gentle, and romantic tone. Whether you play professionally or are just starting out, their full and rounded sound is always guaranteed to delight the ears.
Petrof grand pianos
It takes between 9 and 12 months to build a Petrof grand piano. It's a labour of love, involving skilled piano makers, intoners, and tuners.
The names of everyone involved are etched into each piano, entwining them forever in its history – a gesture nearly as romantic as the sound created.
Designed predominantly for the professional player, Petrof grands have been fine-tuned over the years using the feedback and guidance of experienced musicians, for many of whom the Petrof brand is a firm favourite.
Petrof upright pianos
From inception through to present day, the design of Petrof upright pianos is under constant review, with the team always in pursuit of ways to improve and develop the model.
And it's not just the sound and playing capabilities Petrof is keen to evolve. This brand also strives to bring new and exciting aesthetics to the table, delivering a diverse range of cabinet finishes for a sleek, contemporary design.
How much do Petrof pianos cost?
As an establish and popular name, Petrof aims to capture the tonal excellence of high-end instruments without mirroring the expense. That said, they are still largely seen as a brand catering for the higher end of the piano market.
Typical of most manufacturers, Petrof grand pianos come with a heftier price tag than their upright counterparts, and you can expect the average price for a new model to start from around £27,000.
For a new Petrof upright piano, you're talking in the region of £8,000 – £18,000.
Find Petrof pianos for sale
Looking for a Petrof piano at a competitive price? At Richard Lawson Pianos, we're delighted to stock a great range of this popular piano brand.
Whether you're looking for new or pre-owned, to buy or hire, we can help. And all our pianos come with the same 5-year guarantee and no quibble 30-day trial period.
So why wait a moment longer? Take a look at the Petrof pianos we have available now, talk to a member of the team, or arrange a time to pop into our showroom and try out Petrof perfection for yourself. You won't be disappointed!