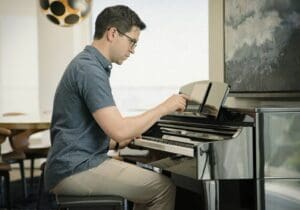 Whether you like it or not technology is everywhere – and it's getting smarter.
Phones, computers, cars, watches – even our doorbells are becoming tech-savvy! So why should instruments be any different?
As the tech world advances, so too do the capabilities of digital pianos. But while there's no denying we're living in a golden digital era, is all that glitters really gold?
Here the experts at Richard Lawson Pianos, take a closer look at the some of top digital pianos on the market. Highlighting what to look out for, what makes one model better than another, and how to identify the best digital piano for your needs.
What is a digital piano?
First things first, let's be clear about exactly what a digital piano is.
Digital pianos are an intelligent fusion of acoustic piano features and an electronic keyboard. The result offers players the best of both worlds – the capabilities and convenience of digital playing, paired with the responsive touch and sound enjoyed from an acoustic model.
Just some of the reasons it's worth considering a digital piano include:
Space – with no strings to house, digital pianos are naturally far more compact than traditional pianos and take up considerably less space.
Portable – being smaller, they are also much lighter than their acoustic counterparts, making them easier to transport.
Privacy – want to keep your playing private? Need to practice at all times of the day and night? If you're worried about disturbing people, then digital pianos are a great option. With volume control and the ability to plug in headphones, the only person that will hear you playing, is you.
No tuning – is tuning another expense and inconvenience you could do without? As a stringless instrument, with a digital piano, you banish the time and cost associated with tuning.
What to look for from a digital piano?
If you're going to pin down the best digital piano for your needs, the first thing you need to consider is what they offer. Look for:
Weighted keys
One of the biggest differences in terms of playing a digital piano vs. an acoustic is the feel of the keys. You need to watch out for 'weighted keys' as this means the digital piano is designed to mimic the hammer action of an acoustic piano.
Opting for a digital piano with weighted keys will make it easier to switch playing between digital and acoustic models. A particular consideration if you're looking to work through grades as you'll be expected to play the piano provided for the exam, which will usually be acoustic.
Sound quality
Sound is everything. Listen out for bass notes that have a rich, full sound and be sure to test out the full musical range before you buy.
Polyphony
Maximum polyphony describes the number of individual notes a digital piano can produce at one time.
The ideal polyphony is 128, although anything over 64 is acceptable. More than 128, however, is unnecessary.
Don't forget the basics
The attraction of a digital piano is convenience. So be sure to take full account of the simple features before making your purchase.
We're talking things like headphone jacks, playing apps, volume control, and checking to see if your amp and computer are compatible.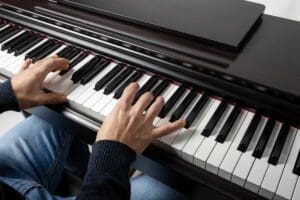 Top digital pianos on the market
Thanks to ever-evolving technology, the world of digital pianos is now overflowing with choice.
To help focus your search we've pulled out some of the best digital pianos based on where you're at on your playing journey.
·         Best digital piano for entry-level
The Yamaha YDP 145 Arius Digital Piano is an excellent, pocket-friendly digital piano. Great for beginners and those taking their first venture into the digital world.
Whilst this is the lower end of the price range – typically starting at around £895 – it still delivers everything you'd expect from a Yamaha and refuses to compromise on feel or tone.
·         Best digital piano for intermediate players
The perfect piano to turn passionate players into accomplished pianists, the Kawai Concert Artist CA79 Digital Piano, is a great mid-range pick.
It combines Kawai's industry-leading Grand Feel III wooden-key keyboard action, with multi-channel sampling, premium audio processing, excellent amplification technologies, and a powerful 6-speaker output system. And all for £2745.
·         Best digital piano for professionals
Pro player or just serious about your music – the Yamaha AvantGrand N3X Hybrid Digital Piano has something really special about it.
Not only does this look like a grand piano – it sounds like one too! With a unique combination of real piano mechanics and cutting-edge digital sound, it is the instrument of choice for pianists around the world. Available from Richard Lawson Pianos at the competitive price of £16,695, it is the crème de la crème of digital pianos.
Finding the best digital piano for you
The key thing to remember is that we're all different. What we want and need from our instruments will vary. Which is why it's important to take time to consider exactly what it is you're looking for.
Aside from your playing level and style, it's essential to be realistic about your lifestyle too. Consider the size and space you have available. Take note of the key action and assess how important that is to you. If you've no intention of ever switching to acoustic playing, then is it really a concern? And be sure to check that the range of 'digital' features matches up to your wish list.
If you're in any doubt, talk to the experts.
At Richard Lawson Pianos, we stock a great range of digital pianos for sale. So if you need more advice on the best digital piano for your needs, please don't hesitate to get in touch.
And don't forget, if you're still not fully convinced going digital is right for you, we offer a 30-day trial period. Meaning you can buy in total confidence.