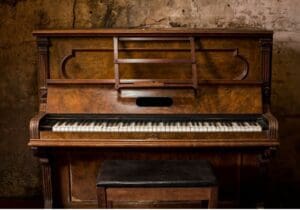 A new year.
Out with the old and in with the new. A time when we look to make improvements, start afresh, and make positive changes.
But it's not all about making things shiny and new – it's about bringing the best out of what we already have too.
So, if you're looking at your old piano and feeling underwhelmed, help is at hand. Here the team at Richard Lawson Pianos share a few quick and easy ways to give your piano a new lease of life for 2023.
Easy fixes
–          Polish
We're all attracted to shiny new things and something as simple as a good polish can really revive the look of your piano, helping to bring its casing back to life.
The market offers an array of quality piano polishes, just always take time to read the label fully and test out any products on a small inconspicuous area first.
If you don't feel confident polishing yourself, or there's noticeable damage or scratches to the bodywork – then it's advisable to seek the assistance of a professional piano polisher. In many cases, they will be able to polish out the marks and restore your piano to its original glory.
–          Make time for tuning
Changes in temperature, location and simply the passing of time, all have an effect on the tuning of your piano.
Keep things pitch perfect and stay on top of tuning with regular maintenance and professional piano tuning.
–          Change location
Feeling a little bored? You don't have to change your piano to mix things up – change its location!
Switching the room, or even just the sitting direction of your piano will alter the feel and recharge your excitement to play.
–          Tweak the lighting
Cast your piano in its best light! Whether it's a window spot to bask in daylight, a carefully positioned lamp or soft mood lighting, illuminating your piano can really showcase your instrument at its best and make it a stunning feature in any room.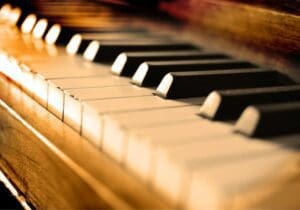 –          Buy a new stool
Are you sitting comfortably? The right stool can make or break your piano playing habits and being comfortable is essential – no one wants to end up stiff and sore from sitting at the keys.
Comfort aside, we'll bet your stool isn't just used for playing the piano either. Chances are it's an additional seat when relatives call and the emergency extra seat around a busy dinner table – meaning if you've had it for some time, it's likely to be looking a little worn.
Buy a new stool and it will breathe new life into the overall look of your piano setup. Opt for something a little different – such as a duet stool – and you can have fun playing with friends and family too.
–          Spruce up your accessories
Refresh the look of your piano with new and improved accessories. Simple touches like a new music holder or music lamp can help to rejuvenate the look and feel.
For changes that can have an even bigger impact on performance, consider a sustain pedal, which can increase the capability and proficiency of your playing.
Work on these quick and easy pointers and not only can they help to revive the look and feel of your piano, but they can also rekindle your love of playing and inspire you to play more too.
Time for a change
Ready to make changes for 2023?
If it's time to spruce things up, take a look at the stools and accessories we have available.
Or if your piano no longer feels like the right fit for your playing requirements – or you're just ready to try something new – you'll find a great range of new and pre-owned upright, grand and digital pianos for sale too.
Take a look at our stunning collections now or for further help and advice about buying a piano or piano accessories, get in touch.
One thing that never changes is the quality of our service – and we'd love to help!