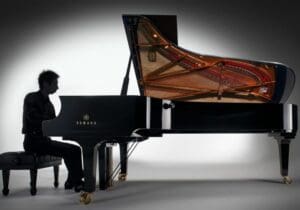 Whether you're a petrolhead or a music buff, Yamaha is a name that refuses to go unnoticed. Yet what do you really know about this brand?
They might hold one of the highest records for Grand Prix race victories but where do their instruments rank on the podium? Are Yamaha pianos worth the investment or…dare we say it…should they stick to motorbikes?!
Here the team at Richard Lawsons Pianos take a closer at the quality, cost, and capabilities of Yamaha pianos to help you decide if one is right for you.
About Yamaha
On the scene for over 130 years, it's no wonder Yamaha is a household name.
Starting out in Japan back in 1887 when founder, Torakusu Yamaha, built his first reed organ after being asked to repair a broken organ by a local school.
His passion for creativity and innovation led to the production of Yamaha's first upright pianos in 1890, followed closely in 1902 by the Yamaha grand piano.
If you're wondering what came first – pianos or bikes – it wasn't until 1955 that the motor company was created. But despite knowing that instruments were Yamaha's first love, you'd still be forgiven for being dubious about the piano brand. After all, power engines and pianos don't really go hand in hand – but it's a combination that works!
Yamaha's overarching philosophy is passion and performance. All corners of the enterprise strive to provide high-quality products that spark joy through excellence, authenticity, and innovation. And it's this drive for pole position that has led to some of the most exceptional pianos in the world being created.
Are Yamaha pianos any good?
"For over a century, Yamaha has blended a tradition of craftsmanship with innovations and modern materials and sound to create pianos of exceptional tone and breath-taking beauty," (Yamaha.com).
Their words, not ours, but it's a claim we believe they live up to.
After all, you don't get to be a world-renowned brand without a great product. And Yamaha pianos are just that – great. Sought after for their quality, craftsmanship and musical range, these are pianos built to perform on every level.
So good are they in fact, that if you look closely, you'll find many famous performers in favour of the make. Perhaps most notably, Sir Paul McCartney, who preferences Yamaha pianos both on stage and in the studio. Other celebrity fans include Alicia Keys, Chris Martin, and John Legend.
What are the most popular Yamaha pianos?
You'll find Yamaha pianos in the homes of elite pianists, schools, concert halls and studios. With such an unyielding commitment to progression and development, it makes sense that they offer something for every player.
Yamaha's upright range starts with the B series, which includes the B1, B2 and B3. And their most popular models are the much-loved U series with the admired U1 and U3.
Accompanying these you'll find everything from classic grands to an advanced collection of hybrid pianos. One of the most popular being the Yamaha Disklavier – which claims to be the world's most advanced piano. This instrument delivers piano playing on a whole new level, with an integrated music system allowing you to fully embrace the power of technology.
Other popular models are the Yamaha Silent and TransAcoustic, with the power to transform how you play and practice.
One thing you won't be short on with the Yamaha brand is choice. For help finding the right Yamaha piano for you, talk to the team.
What's the average Yamaha piano price?
Renowned the world over for consistency and quality, a Yamaha piano represents a sizable – yet sound – investment.
The good news is, thanks to the scale of the Yamaha collection, there are varied price points. So, whilst largely regarded as a premium piano brand, you should still be able to find the right piano for you, at the right price.
As a guide, you can expect to pick up a mid-range upright Yamaha piano for around £9,000, with prices for their most popular grand pianos – such as the CX Series – starting at approximately £20,000.
If that's more than you were thinking, don't forget you can often pick up a pre-loved Yamaha at a discounted cost – typically up to 50% less than the original asking price.
Find Yamaha pianos for sale
Such is their popularity, Yamaha pianos are sold across the globe. But if you want to purchase from a company that offers more than just a piano, that's where we come in.
Here at Richard Lawson Pianos, we cater for your every need, offering expert help and guidance to assist you in finding the perfect new or fully refurbished Yamaha piano.
Not just this, though. We also offer a great range of piano accessories, piano tuning, and – of course – every piano sold by us comes with a 30-day no-quibble returns policy and is backed by a 5-year guarantee as standard.
Why not make an appointment to visit our showroom or call  01923 720 974 to chat in more detail with a member of the team?