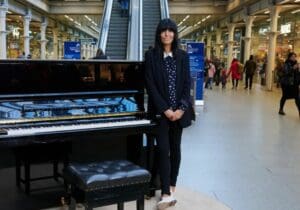 If ever there's a programme title likely to pique our interest, it's the latest reality show from Channel 4 – The Piano.
And it appears we're not on our own. The first episode, which aired on 15 February, has been dubbed 'the best show in ages' by viewers who flocked to social media to sing its praises.
Hosted by the nation's sweetheart, Claudia Winkelman, and featuring classical pianist Lang Lang and platinum-selling popstar, Mika, this is a show bringing piano playing to the masses like never before.
Running over 5 weeks, the format is simple. Take a piano, place it in a busy train station – London Saint Pancras, Leeds, Glasgow and Birmingham – step back, and allow the Great British public to do their thing.
But there's more at stake than just being brave enough to step up and play to passers-by. Watching from a secret location, each week Lang Lang and Mika will invite their favourite performer to take part in a special concert at the Royal Festival Hall.
Why we love it
Okay, so reality TV and piano playing may seem like an unlikely combination – but it works!
And the show is more than just a covert talent contest, proffering heart-warming tales and good music. Rather, it showcases the exceptional talent of some of the UK's best amateur performers and puts piano playing firmly on the map.
Amongst some of the many positive comments about the show, one viewer declared on Twitter: "This show is melting my heart #ThePiano – I play (badly) and it's just making me want to get playing again."
And it's this that resonates with us. For anyone teetering on the edge of learning – or lacking the confidence to pick back up from where they once left off – watching The Piano offers just the encouragement needed by reinforcing many of the things we love most about playing the piano, including:
The piano is for everyone
All backgrounds, all abilities. The piano doesn't discriminate, and this is highlighted by the hugely varied lineup of people taking their turn to tickle the ivories.
A drag queen, construction site manager, ex-serial partygoer, Ukrainian schoolboy, funeral director, musical mum, and a talented pensioner – and that's just in the first episode!
You don't have to be professionally taught
Never has this been clearer than with the mechanic who taught himself during lockdown. Inspired by videos watched online while he was cooped up at home, this 21-year-old ordered himself a keyboard and the rest is history. Judges were wowed by the progress he'd made in such a short time without formal teaching, showing that all you need is a passion for the piano and a willingness to learn.
There are no age restrictions
Six to 95 – if you're worried you're past it, or too young to start, then let the line-up for this programme stop that thinking right here!
Lang Lang himself started playing the piano at the age of two and we're set to see many talented youngsters as the series progresses, proving it's never too early.
On the flip side, it's never too late either. Meet Harry, 92, whose wife is sadly suffering from dementia. Whilst she may not always recognise him, she does remember the music they used to enjoy together, and Harry uses the piano as a way of reconnecting.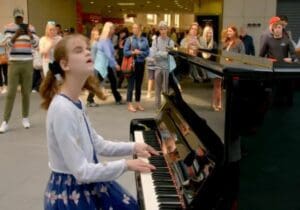 The transformative powers of piano playing
We also see how Harry uses playing the piano as a form of escapism, describing his time playing 'like going on holiday' and allowing him to block worries from his mind and take much needed time-out.
The same is true of mum, Fiona. Giving up a musical career when it became evident her severely autistic son needed all her focus. As one of few sounds able to calm and soothe him, piano playing became a form of refuge for both. Now, 15 years on, she's creating her own original compositions.
13-year-old Lucy is a blind and neurodiverse teenager. She is barely able to hold a conversation yet defies all expectations with her piano playing. Prepare to be wowed as she performs a highly complex Chopin piece.
And we can't forget 24-year-old, Jay. As the first player invited to perform at the Royal Festival Hall, the piano has helped Jay to turn his back on a former partying lifestyle. His unique playing style, and original blend of musical genres, left Mika and Lang Lang spellbound.
Be the star of your own show
Inspired to start learning the piano? Encouraged to rekindle a passion you've let dwindle? Then what's stopping you?
Here at Richard Lawson Pianos, we have pianos for all ages, abilities, and budgets. Shop the collection now, or better still, why not book an appointment to visit our showroom and try different models out for yourself (there'll be no hidden audience, we promise!)?