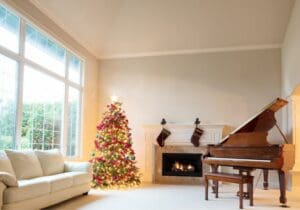 Tempted by the idea of a piano this Christmas? Does the thought of family gathering around to perform and sing carols fill you with a warm glow?
You're not on your own.
In a survey carried out by PRS for Music, the piano ranked as the most desired musical Christmas present, scooping 34% of the votes.
Even John Lewis harnessed the appeal with their hugely successful Christmas advert – The Boy and The Piano – back in 2018.
Focused on a young boy (the one and only Elton John) and his piano-playing journey, this wasn't an ad about Elton's fame – nor was it a push for the sale of snazzy glasses – rather it conveyed how 'some gifts are more than just a gift'. Showcasing piano playing not as a festive fad, but as the start of a great and lifelong love affair.
At Richard Lawson Pianos, we couldn't agree more with this mentality, so here we share some of our favourite reasons why playing the piano is for life, not just for Christmas…
It brings the family together
Connect the generations and find common musical ground with a piano.
Whether it's something from Beethoven, an Elton number, a John Lennon classic, or more present-day Robert Miles, music from all genres can be appreciated on the piano – helping to unite the family and encourage quality time together.
Whatever music you appreciate, and whether you love to play, perform, or sit back and listen, a piano is a gift for all the family.
It encourages downtime
Whether it's binging on Netflix, computer games, phone scrolling or long days at the office, most of us are guilty of too much screen time.
A top New Year's resolution is to commit to reducing time spent on tech. Research in 2020 highlighted that more than 40% of people planned to change their digital lifestyle and reduce time spent on devices.
As awareness around the negative impact of too much tech grows, this figure is likely growing too.
Piano playing makes a great alternative. Encouraging your mind to relax and unwind.
It's good for you
If the effects of reducing screen time aren't positive enough, playing the piano can offer numerous additional benefits.
Not only is playing a musical instrument cathartic – providing a release for pent-up emotions – but it can also promote positive mental health, help to trigger memories, and aid learning.
Read our blog 'Playing the piano – it's more than just music', to find out more about the power of piano playing on both mind and body.
It's an investment
In the current climate, the voice of reason is probably kicking in, warning you not to get carried away with Christmas spending.
Good to know then, that a piano doesn't depreciate in the same way as other sizable purchases. And – with the right care – it can last a lifetime, becoming part of the family and passed through the generations.
It's also worth pointing out that you don't need to go for an expensive model. There are hundreds of pianos available on the market to suit all manner of budgets.
Worthwhile too, to look for a piano retailer offering finance deals, as this can considerably reduce the financial impact. Looking at pre-owned pianos is another great option.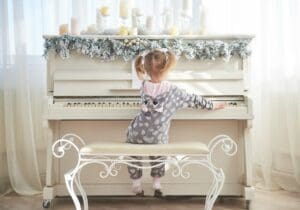 It's a great New Year's resolution
Learning a new skill is a great idea and the piano works for everyone. Regardless of age, fitness or academic ability, buy a piano and the whole family can embark on a new musical adventure together.
Why not set fun goals and challenges? Who can be the first to learn a new song or who can achieve their next grade by December 23?
It can open doors
The jobs market is tough, but competition starts earlier than that. College and university applications seek evidence of hobbies and interests that demonstrate a broad range of interests, skill sets, a well-rounded character, and a commitment to personal development.
Being able to list playing the piano ticks these boxes and can be enough to give you the edge over rival applicants.
It's a design feature
A piano makes a great decoration – and we're not meaning tinsel and baubles here. There's a reason hotel lobbies, bars and restaurants have pianos in situ, and it's not just for entertainment. It's because they look great and create an impressive focal point in a room.
So, whilst playing is always the main priority, if there are times when it seems the keys are rarely touched – don't worry! The piano is more than just an instrument – it's part of the furniture! And it's earning its keep in other ways.
The gift that keeps on giving
A piano is so much more than a festive prop and the joy it can bring isn't restricted to December. So silence the 'bah humbugs' and step into Christmas with our fantastic collection of pianos for sale.
Follow in Elton's footsteps (many of the pianos staged in the advert were Yamaha) and view our impressive collection of new and used Yamaha pianos or take a look at some of the other great instruments we have available.
You'll find uprights, grands, digital, and silent pianos from all the market leaders. Available with great prices guaranteed, a 5-year warranty and a 30-day trial period as standard.
Take a look at the fabulous range online, get in touch to find out more or book an appointment to visit the showroom.
Our friendly elves, ahem, team, are on hand and ready to help you find the perfect piano this Christmas.