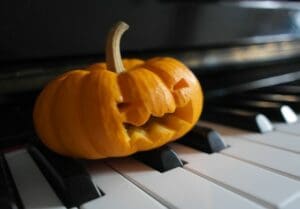 Thinking about investing in a pre-owned piano? Heard a few horror stories about buying second-hand instruments?
It may be the season for haunting tales, but don't let scaremongers and misinformation put you off.
Purchase from a reputable piano dealer – like the team here at Richard Lawson Pianos – and pre-owned pianos can offer significant savings.
Want to separate the fact from the fiction surrounding pre-owned pianos? Read on…
Trick
·       It's a waste of money
It's the same old story, isn't it? You don't want to spend a fortune, but you also don't want to fall prey to what looks like a bargain only to have to spend more money a few months down the line.
With pre-owned pianos, people often worry they won't stand the test of time or that the expense of tuning and maintenance will be excessive – but it's not!
Provided the piano comes from a careful owner, or a reputable dealer, the ongoing expense associated with a pre-owned piano should be no different to that of a new instrument.
·       It won't sound as good
There's no rule book that says buying new is buying better.
We've discussed in previous blogs how movement and the environment where a piano sits can affect the quality of its sound. However, provided it has been properly looked after and regularly tuned, there's no reason the sound should be affected just because it's had a previous owner.
·       It will be damaged
It's true that the older an instrument gets, the more signs of wear and tear are likely to become evident, but dents and scratches to wooden casing can easily be polished out by professionals. A few scrapes here and there is of no detriment to the music a piano can produce.
That said, if you're buying a second-hand piano, it's important to carry out a thorough check. Ask about its history and – more importantly – sit down and play it yourself. This should help bring to light any potential problems with the acoustics.
·       It must be old
Simply not true.
There are any number of reasons why a piano can come to be resold – playing needs develop, circumstances change, living arrangements alter – all of which means you could benefit from a relatively new piano at a much lower price!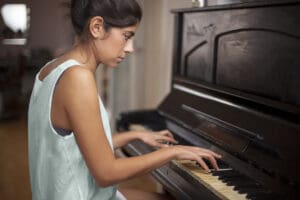 Treat
·       It's cheaper
One of the easiest ways to identify a pre-owned piano is by the price tag.
Buy second-hand and you can expect to pay up to 50% less than the asking price for the same model brand new. Now if that's not a great reason to buy pre-owned, we don't know what is!
·       It's great value for money
Whichever stage you're at in your musical career, it's likely that buying pre-owned will make better financial sense.
New to playing and not sure you'll stick at it? Then keeping the initial outlay to a minimum is advisable.
A keen hobbyist? If you're investing time and energy into playing, what you want and need from a piano will quickly change as your skills develop. Avoid paying a premium for a new piano, and it will make the possibility of upgrading more realistic as your playing progresses.
Are you a professional player? Then it's likely you'll be aspiring to a grand piano – which can come at a hefty price. Widen your search to pre-owned models and you'll immediately benefit from more choice and increased affordability.
·       You get a piece of history
Pre-owned pianos can be virtually new or well-aged heirlooms. Either way, they all come with a past, and we believe this is part of their individual magic.
Buy a pre-owned piano from Richard Lawson Pianos
When it comes to pre-owned pianos from Richard Lawson Pianos – there are no tricks, just treats!
All pianos are fully checked over by our team of skilled in-house technicians, tuners, and craftsmen, who lovingly restore each one to peak condition.
Buy from us and – regardless of whether you opt for a new or a refurbished model – you can be confident of the same great service, a 30-day trial period, and an impressive 5-year guarantee.
Take a look at some of the beautiful pre-owned pianos we have available now. Or to find out more about the benefits of buying pre-loved instruments, be sure to get in touch with the team.