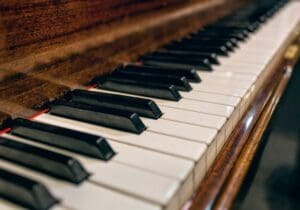 There's something rather romantic about the notion of passing a piano down through the generations – but just how realistic is the idea?
At Richard Lawson Pianos, we often talk about the charm tied up in the history of a pre-owned piano. And when that history is connected with your own family and memories, there's no denying it's something special.
Yet, whilst buying a fully serviced second-hand instrument is one thing, can a piano really be enjoyed through multiple generations and still perform at its peak?
Whether you love the idea of creating a musical heirloom or just want to ensure value for money, you'll be pleased to hear that, with the right care, there's no reason a piano can't become a family treasure.
Read on to discover how you can protect your piano against the test of time…
How to preserve your piano
To prolong the lifespan of a piano, constant care and regular maintenance are needed. This includes:
·         Routine tuning
Staying on top of tuning helps a piano to stay in condition and avoids causing lasting damage to the strings.
As a guide, it's recommended to get a professional tune every 6-9months – more frequently if you're a professional player.
To find out more about the dos and don'ts of tuning, check out piano tuning – what you should know.
·         Voicing
Most people are aware of the need for tuning but are you familiar with voicing?
Just as important, it involves balancing the volume, tone and quality of sound by adjusting the hardness of the hammers. Using an experienced technician for this process will help to ensure hammers strike notes evenly and that the optimum balance of your piano is maintained.
·         Cleaning
Cleaning a piano is pretty easy. There are hundreds of products on the market, but a clean, soft cloth is really all you need to gently remove dust and fingerprints.
If you do decide to use a product, be sure to read the label carefully and always test it out in an inconspicuous spot first.
One area that will require regular attention is the keys. These can be tackled with a microfibre cloth dampened slightly with plain water, wiping from the back to the front.
If a deeper clean is needed, use diluted alcohol-based disinfectants – but never bleach or citrus-based products. It's also important to take care no residual damp is left behind, as this can seep between the keys and cause damage.
Learn more about cleaning your piano.
·         Think about positioning
Direct sunlight, underfloor heating, damp environments and cold draughts, can all take their toll on a piano, especially over a prolonged period.
Makes sense, then, that if you're going to ensure your piano can be passed through the generations, you need to think carefully about where it's going to sit.
If options are limited, look for ways to minimise the impact of the position instead. For example, will shutting a door protect from draughts? Can curtains be kept closed during particularly bright sunny days? Could you invest in heat resistant carpet to protect from underfloor heating?
For help finding the perfect position for your instrument, read our guide to the best place to put a piano.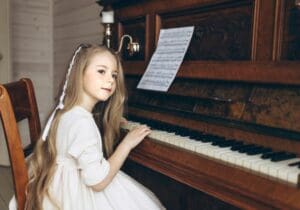 ·         Take care
It's the little things that really mount up over time, so it's important to take care of your piano and do everything you can to protect it from day-to-day life.
This means not falling into the trap of using it as a table or ornament stand. Avoid placing drinks or fluids on the casing (at all costs!!). And when you're not using the piano, try to get into the habit of covering the keys and closing the lid, this protects the keys from dust and damage.
·         Polishing
A piano will naturally lose its 'new' glossy appearance over time as scratches and signs of wear and tear start to appear – but help is at hand.
A professional polish is a little like a piano's version of anti-ageing cream. Rejuvenating the surface, enhancing the appearance of the wood grain, and protecting the casing against the effects of ageing.
·         Fixing dents and cracks
Superficial scratches are one thing, but more serious dents and cracks can also be tackled by the pros.
And it's not just bodywork that can be fixed. If you're not happy with the look of your piano keys, these too can be replaced.
·         Time for a change
Was dark mahogany wood ok for Grandma's house but not for the kid's bright and modern music room? Fashions are always changing and there's no need to be stuck in a rut with your piano.
Search online and you'll find numerous professional services out there offering to paint your piano and give it a new lease of life. Not only can you change the colour of the casing but even the pedals and hinges can be sprayed a new shade too!
Start your story
Whether the story begins here with a brand-new piano or you want to add more chapters to the tale of a pre-owned piano, we have a fantastic collection of instruments for sale.
Shop pianos now or to find out more about what we do and the pianos we have available, get in touch with the team.