The Shigeru Kawai SK-EX concert grand piano. Quite a title, isn't it?
It's also quite a piano!
If you're looking for excellence in every form, then you've surely found it right here. From the finely sculpted body and responsive touch to the unrivalled sound, this really is one of the world's finest pianos.
Producing these spectacular instruments is a true labour of love. Fewer than 20 are crafted each year – and we're delighted to be one of the few lucky retailers to have one in stock, right now!
Competition to purchase an instrument of this calibre and rarity is high. If you already know it's right for you, don't miss this unique opportunity.
Buy a Shigeru Kawai SK-EX concert grand piano now, or contact the Richard Lawson Piano team to talk in more detail.
About Shigeru Kawai
Starting out in Japan more than a century ago, Kawai has earned a reputation as one of the finest piano manufacturers – and it's a status that's duly deserved.
Always seeking to push boundaries, this is a brand in constant pursuit of excellence. Combining decades of experience with the advances of pioneering technologies, Kawai promises (and delivers) extraordinary quality, touch, and tone with each and every piano they produce.
What makes the Kawai SK-EX concert grand piano so special?
The priority with the Kawai SK-EX isn't a rush to get the piano on the market – it's to achieve flawless perfection.
The official Kawai brochure states that: "Over 100 years ago, in a humble workshop in Japan, Koichi Kawai embarked upon a journey – a spiritual quest to design and build a piano that would one day be called 'the finest'."
We'd say the SK-EX achieves this.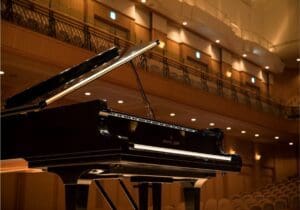 How much does the SK-EX cost?
The sticking point for many with the Shigeru Kawai SK-EX concert grand piano is the price. Retailing at over £125k, there's no escaping it – this is an expensive piano.
But it's worth it.
The responsive touch, the elegant tone – whilst the cost may dwarf other piano price tags on the market, so too do the features and qualities. This isn't just your average piano. This is something very, very special.
Is this a piano for amateur players?
It's unlikely that a first-time player is going to start shelling out this sort of money on a piano, no matter how fabulous it is. Nor is this a model for hobbyist – unless you're particularly keen to invest in your pastimes.
As the largest in the Kawai grand range, this majestic instrument stands at a height of 102cm, with a length of 278cm and a width of 158cm – it also weighs in at 504kg. Given its size and status, this is a statement piano of unparalleled quality, best suited to concert halls and professionals who can capitalise on its performance capabilities.
Buy a Shigeru Kawai SK-EX concert grand piano
At Richard Lawson Pianos, we strive to always offer fair and competitive pricing, and the Shigeru Kawai SK-EX concert grand piano is no different.
Buy from us today and you'll also receive a free adjustable concert stool, a complimentary first tuning, a later visit by one of Kawai's own Master Piano Artisans, and free ground floor delivery – and, last but not least, Kawai's amazing 10-year warranty.
View the SK-EX concert grand piano in more detail now. If you have any questions, or would like to arrange a viewing to experience its splendour for yourself, call us on 01923 720 974, email info@richardlawsonpianos.com, or fill in our contact form and we'll be back in touch soon.
Is the Kawai SK-EX concert grand piano out of your budget range? No problem. We pride ourselves on offering pianos for all playing abilities, preferences, and budgets. Talk to the team for help finding your ideal piano.