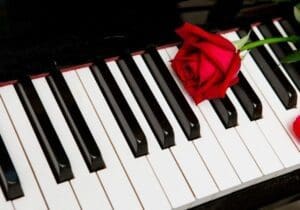 Fed up with musical instruments that over promise and under deliver?
Whether you've been burnt by a bad purchase before or this is your first time looking, you'll no doubt be wondering the same thing – how to find the right piano for you?
Here the team at Richard Lawson Pianos share their expertise on what to look out for when buying a piano, to help you find your perfect match.
– Don't jump in too deep too soon
If you're not convinced you've found 'the one', or even if a piano is the right instrument for you, why not enjoy playing the field first?
Experiment with different instruments to be confident a piano is the correct choice.
Once you're convinced it is, it's then important to try out different makes and models. The more you try, the easier it will be to pin down what it is you like and dislike.
Luckily, at Richard Lawson Pianos, we have one of the very largest ranges of pianos in the country to choose from, and it's rare for our customers to not find their ideal piano.
– Reputation is important
Whilst you shouldn't believe everything you hear, reputation is important when it comes to buying a piano.
Take time to research the brand and model of piano you're considering buying. Ask around, talk to other musicians and find out what people have to say.
It's important to do this for the dealer you're considering buying from too. Check out reviews – would previous customers recommend their service?
– Don't be blinded by good looks
A piano may appear to be in excellent condition but looks can be deceiving, particularly if you're buying a pre-owned piano. Which is why it's important to delve a little deeper.
Take a look under the lid, sit down and have a proper play of all the keys and be sure to ask plenty of questions – such as how many owners has it had? Where has it been stored etc?
When it comes to buying a pre-owned piano, its history can add to the charm, but be sure to check out its past fully to make sure there are no skeletons in the closet you need to be worried about.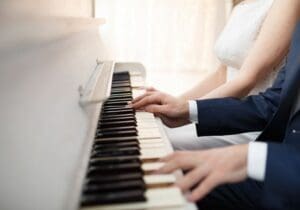 – Think long-term
To get the most from your piano it's worth trying to plan for the future.
Likely to be moving house soon? Do you need flexibility and a model that is practical and easy to transport? Is your next move going to be to your forever home where you'd love to accommodate a grand piano?
Maybe you're planning a career change? Could that mean you'll need to practise at different times of the day and night, making volume control and the ability to plug in headphones essential? Or do you need a piano that will work for you and your growing family?
There are numerous factors to consider that can help to focus your choice and budget, and make sure you buy a piano that fits into your life.
– Promises, promises
No one likes empty promises or being let down. Which is why at Richard Lawson Pianos, virtually all of our pianos – regardless of age – come with the same great 5 Year Guarantee. Giving you the confidence and freedom to buy.
– Make time for each other
The key to a long, fulfilling relationship is making time for each other, which means making sure you factor time to play into your busy schedule.
Try to set aside the same time every day to help establish practise as part of your daily routine. If you're part of a busy household a silent piano can make this easier to achieve.
And don't forget the importance of listening and looking after your piano too! Make sure it's kept in a suitable place – somewhere that isn't too hot, cold or damp – and pay attention to its needs. Routine tuning is always recommended but if things start to sound different, or don't feel quite right, be sure to book in an early tune.
Need a hand?
Feeling a little overwhelmed? Still unsure about which is the right piano for you? Then why not get in touch or, better yet, if you're local, make an appointment to visit our showroom?
We'll listen carefully to exactly what it is you want and need from your instrument and use our experience and expertise to help you find 'the one'.
And there's no need to panic about things getting too serious too soon. Thanks to our 30-day trial period, if you discover your chosen piano isn't quite right for you, you can return it. If only all relationships were this easy!
Start looking online now, or to speak to the team, call 01923 720 974 / 07967 725209.