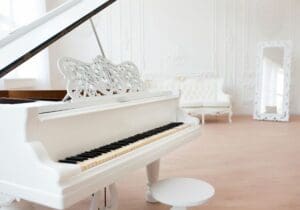 Thinking about buying a white piano?
Well, if it's good enough for John Lennon, then it's good enough for you, right?
Not convinced?
There's no denying the popularity of white pianos has massively increased over recent years. But there's also no denying that if there's one piano feature that's sure to spark debate, it's the colour.
For many years a white piano has been regarded as flashy – the showman's choice. With the high-gloss shade viewed as garish (possibly even a tad tacky!) and very 'Hollywood'.
But as with all fashions and trends, opinions change. Now more and more people are appreciating the beauty of a white piano – and not just the celebs!
Here, the team at Richard Lawson Pianos take a look at why pianists of all levels – and all walks of life – are being tempted by the glimmer of white.
Why have white pianos grown in popularity?
Whether it's a white upright piano, a white digital piano, or the irrefutable elegance of a white grand piano, they have all seen a surge in popularity.
But why?
One of the biggest reasons is that modern homes and public spaces are now designed with a focus on being light, airy and open plan. Clean lines, light colours and glass take centre stage, and a white piano lends itself to this look and is the logical choice if you're looking to maximise space.
Put a large black piano in a small or poorly lit room and it will immediately overpower its surroundings. A white piano in comparison, will complement its environment, help to reflect light, increase the sense of space and allow light to flow.
But whilst white is a contemporary choice, it also lends itself to more traditional settings too. In particular, our baby grand white pianos, can look stunningly vintage and offer real charm and character.
Benefits of a white piano
A white piano doesn't look just look the part, it can also help to:
·         Spur creativity
If you want to get the most from your instrument it needs to enthuse you. A white piano can really excite the senses, lifting your mood and encouraging you to not only sit down and play but to be musically creative.
·         Stand out from the crowd
Popular they may be, but pianos of this colour are still less prevalent on the market than other finishes. So, if you like to be a little different and stand out from the crowd, a white piano is the way to do it.
·         Create different looks
We've already touched on the beauty of white, but the real attraction here is the versatility.
A white piano can be used to create a striking focal point or to blend effortlessly into its surroundings. It can be cutting edge contemporary or traditional. Wherever you choose to position a white piano, and whatever your style, it's guaranteed to look the part.
·         Save space
…or at least they can pretend to! Light and airy, the typically high-gloss surface of white reflects light and can help to create the illusion of more room. So if space is an issue, opting for this finish can help to alleviate the problem.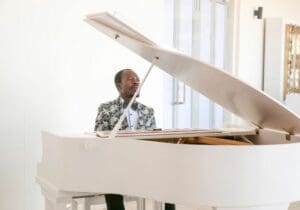 Will the popularity last?
Love them or loath them, white pianos have always held a revered status, being viewed as anything but ordinary.
Yes, fashions change, but we don't believe their popularity is a passing fad. Let's be real here – they've been about for years. It's just taken a while for them to be properly appreciated.
And it's not just the popularity that's enduring – the craftsmanship is too. Equalling their brown and black counterparts in manufacturing prowess and musical capabilities, a common concern is that the colour will lose its brilliance. But there's no need to worry. Thanks to modern advances, white pianos hold their colour perfectly, with no hint of yellowing over time.
Buy a white piano from Richard Lawson Pianos
Heard enough? Ready and raring to buy? Then shop our white piano collection now.
Alternatively, if you'd like to speak with a member of the team or book a visit to our showroom to see the true beauty of these pianos in the flesh, then please don't hesitate to get in touch.
You can call us on 01923 720 974, email info@richardlawsonpianos.com or fill in our contact form and we'll get back to you as soon as we can.